Free Horse Leases

- click here Free!

You have reached the old 2008

"Horse Shows" page

To go to the new 2009 Shows Page

Click

this link

HORSE SHOW

NEWS!

2009 Series Dates:

We are working hard this week to nail down some of the dates for 2009 Summer Series horse shows. We're pleased that some new stables are interested in being part of the series this year, but we're waiting first to hear from all the stables that took part last year. There will be news on dates coming soon!

January 26, More Show News:

Welcome "Skibbereen Farms"!

We are working hard at making the arrangements for the 2009 Summer Series horse shows. We are proud to announce that "Skibbereen Farms" in Orchard Park has joined this year's series and will be hosting the final show in the Series on Sunday, August 9th, the week before the Awards Party and Derby Day. We look forward to working with Chrissy and her crew - they know what they're doing!

We also expect to soon confirm a date for Northfield Farms and Linda Rosenthal. They ran a great show last season!

January 25th:

Quakerfield Stables Summer Series show is now confirmed for 6 months from TODAY, Saturday, July 25th. Noreen and her crew have been great partners in the Summer Series and we look forward to showing at their farm again this season! More news on Series show dates will be coming during the next week or two. We will be advertising the Series heavily this year to help make it the very most fun and most successful ever.

January 24th Update:

Hasty Hills Farm will once again be part of the South Towns Summer Series

We're very pleased to announce that Hasty Hills Farm is confirmed as one of the 2009 South Towns Summer Series shows. Their show will be on the weekend of July 11th, with the main show Saturday, and possibly the jumper show on Friday night, the 10th. We'll post details as soon as they are confirmed.

It is very fitting that Hasty Hills once again joins Longacres as part of a summer horse show series in Western New York. Longacres and Hasty Hills were both in a show series together even before there was a South Towns Summer Series. Both farms were part of the old "Buffalo Summer Series" back when the Buffalo Saddle & Bridle Club and Bechtel Stables were the other members.

Longacres also is ready to confirm that the Awards Party will definitely be held on Saturday evening, August 15th, rain or shine. People seemed to like the way we ran the Awards Party last summer as a "Barn Party", with video, bands, and other displays all in and around our barn. We'll do that and more again this year.

Saturday afternoon and evening, August 15th, will be a full fledged "Horse Fair" at Longacres with every horse business and stable in Western New York invited to set up a display in the barn.

The 39th Annual Longacres Jumper Derby will also be held on Saturday, August 15th, with every effort made this year to run the event on that date unless much better weather is available the day before. You all know the problems we had with weather last summer!

Erie County Fair News:

As long rumored, there will be some major changes to the "America's Fair" Hunter - Jumper horse show in August. I have spoken both with the fair office and with horse show manager, Jason Gates, today and I can confirm the following:

The 2009 Hunter Jumper show at the fair will be an "Open" show and will not be a USEF member show.

The show will have as much as possible the same "look & feel" as always. Brian Flynn will return as one of the judges and as course designer. We will have the same jumps as in the past. Show manager Jason Gates says, "We'll do everything we can to offer an "A" show experience without the "A" show costs."

The show will run on the same Tuesday, Wednesday, Thursday schedule as always (August 18, 19, 20th). The USEF exclusive classes such as Small Junior Hunter, Large Junior, Amatuer Owner, Medal, etc will not be offered since there would be no way to count them for USEF points or qualifying. But there will be similar Open classes for all level riders. All other classes from previous America's Fair Hunter Jumper shows will be offered. Many new classes will be added, including Long Stirrup and other lower level classes for juniors and adults. Pony Hunter will be offered, but not separate Small, Medium, and Large pony divisions.

The Jumper divisions have been one of the strengths of this show over the years, and they will all return nearly unchanged. There will be at least two exciting additions to the Jumper division!

Both will be in the popular 2'6" to 2'9" specification. One will be a "Gambler's Choice" event, which offers exciting choices for the riders and a good spectator event.

The second new Jumper event is a "Team Jumping" event. It is being done so nearly the same as the event we host at the Longacres Derby every year, that many will think it was my idea or copied from our Longacres event. But, actually, Jason Gates had already written up this idea and the details before talking with me! Talk about coincidence!

The Team Jumping will be a $500 event and will use the best three scores out of a four person team. Just as at the Longacres Derby, a team may include three or four riders with the best three scores to count.

NOTE: The Longacres Jumper Derby will be held on Saturday, August 15th, just four days prior to the America's Fair show. Longacres will host a nearly identical Team Jumping event at 2'6" to 2'9" with a $1000 payout. With TWO team jumping events in the same week, it might bring out more jumping teams. Our event bombed out last summer with the rain, but in 2007 we had eight teams! Longacres will do whatever we can to help promote the jumping events at the Fair.

How Will all this change your experience at Erie County Fair?

For many of us, going to the Hunter - Jumper show at the 2009 America's Fair will seem just the same as always. Nearly all the classes we enjoyed in the past will be offered, and quite a few new classes that will appeal to local riders. And the really GOOD NEWS is that it will cost us less. Stall fees will be nearly the same, and you will still be required to pay the Agricultural Society membership fee of $18 per owner. Entry Fees will be much the same as in the past. But that's it. No USEF non-member fees, no drug testing fees, no fees to stewards for measuring horses. For the great majority of us who have always loved this horse show, the change is a huge improvement with big $aving$.

The BAD NEWS: We have always had a few stables at this show that do show the regular USEF and PHA circuits. Since there will be no points opportunities at this "Open" show, some of those trainers will not come. I believe we will gain more horses than we will lose, but we will not see a few familiar faces. Also, a few trainers have expressed concern that the quality of the show experience will go down the drain if it is an "Open", unrecognized show. I have assurances from Jason and the show management that everything possible will be done to offer the same professional show experience we've always enjoyed at "America's Fair" in Hamburg. I have participated in this County Fair horse show for 41 straight years without missing a year. Nobody else in Western New York has been there as long. You can bet that I will be there doing what I can to help keep this a successful show with first class showing conditions.

I hope that most of you in the Western New York horse world will join me in welcoming this change as an opportunity to build something that is even better for most of us who show Hunters & Jumpers in our area. With a nod of regret to the few who may choose to go somewhere else that week in August, Longacres looks forward to an exciting new beginning on August 18th to 20th, 2009!!
Southtowns Summer Series

Sponsored by the Longacres Riding Camp and other area stables

(click on thumbnail for bigger pic)

Information & Contents Page To email us

Thanks to Sponsors!

- Click here

Check Here!

2009 Longacres Newsletter BACK to Longacres homepage - Click here

Summer Series Dates for 2009 -

Click Here

Final 2008 Points Standings -

click here

The top four in each division get trophies at the Party - If you see someone listed who might not know they are getting a trophy, pass the word!
Friday Horse Show, 11AM:

Bulletin: "Dress" for the fun show is informal - as informal as possible! Wacky and outrageous is good! Use your imagination. Tropical shirts, baling twine accessories, you name it!

Grounds fee = $10; Game classes = $10; regular show classes = $15; Derby = $20

Ribbons in all classes; Medals in many classes

We might add or change a class, but here's our tentative class list for the Friday show:

1) Partner lead line barrel racing!

2) Walk - trot equitation

3) Swat the can race

4) adult equitation on the flat

5) cross rails jumping

6) barrel racing

7) pole bending

8) Junior with an adult pair tandem hunter

9) Outside course eq. o.f. (open)

10) short course jumper class

11) pleasure horse

12) pairs class pleasure horse (walk - trot)

13) pairs class pleasure horse (W-T-C)

14) On & Off the horse obstacle run!

15) Side by side Trot Serpentine Sprint Eliminations!

16) Surprise!

17) Jumper Derby Redo - three heights, one class!

August 17, 11AM:

Longacres Fun Show

coming on Friday, August 22nd at 11AM. No points, lots of fun classes, come on out and "yahoo" just for the fun of it. This is our last event of the year before closing the barn the next day!

We'll have a couple of real over fences classes for both hunter and jumper, some game classes, several adult only classes for the mom's, pairs class and tandem hunter class!

THEN we'll have a redo of the Derby at multiple heights from beginner on up, all judged as one class, so if you missed the Derby or want to try the course again, come on out. The Derby will start not before 1PM. We have left over Medals from the team jumping last week and we'll give them away along with ribbons in the Derby event.

Full Derby results from August 8th will be published here soon. Congratulations to Shelly Kearny and "Devil Horns" for winning the 2008 High Derby.

Derby Day! -

Thursday AND Friday!

8 AM Friday:

The weather has not been kind to the Derby this year but we are making the best of it. See details below. Come join us during the day today between 10:30 AM and 5:00 PM to see the jumping as we fit the classes in between rain storms.

The Awards Party in the barn with two bands will be from 6 to 9 this evening with Awards at about 7:30. Don't miss it!!!!

8 PM Wednesday:

Derby Day - "The Both Days Solution" - scroll down for details!

11 PM Thursday Update:

Click

this link for pictures from the first day of the Derby today. We got wet for the morning classes, but it cleared up for a gorgeous afternoon. On the "open judges cards", Abby Thorpe leads the $1000 High Derby with 2 time faults. Shelly Kearney and "Devil Horns" lead the $1000 2'9" Derby card with a double clear round.

Come on out and join us tomorrow (Friday) to have fun dodging rain showers again and compete for $2000 in guaranteed prize money!

AND THE BARN PARTY!!!!!! - 6 to 9:30 PM with two bands, open bar for adults, and all the Season Championship Awards.

Click here to see if you are in the top four in any division for awards.

Many of you have other commitments either Thursday or Friday. We are going to run the Derby classes both days, much as we did a few weeks ago for our August 25th - 26th shows.

We will run all five Derby Classes each day and keep the score cards open until the classes have been run Friday. You may ride either day or both days. Your best score will count for your ribbons or prize money in each class. Look at it as a two round competition with your best round to count. Call me if you have any questions on how this will work. (652-9495)

This way everyone who wants to come and ride the very nicely done Derby course can do so, either day - or both days (One entry fee covers both days if you come both - you do not have to come both.)

We will begin at 11AM on Thursday and again at 11AM Friday. We'll run through the classes in order, and we will take breaks if it rains. We will try to wait to hold the two highest classes until 4PM on Friday, but will not wait if rain is coming on the radar.

No party on Thursday night. All Awards and the Party from 6 to 9 PM Friday!

There will be only one change in class specifications. The "Team Jumping Event" at 2'9" will be a separate class and the team medals (if we have any teams besides Longacres!) will be awarded for that class, including a jump-off. Not a speed class as previously announced.

The $1000 2'9" class will be for the Individual medals and money. We WILL PAY the money regardless of number of entries.

Because of the likely poorer footing Friday, the High Derby will be limited to 3'6" and will not go higher in the Jump-off. We WILL PAY the $1000 in the high Derby regardless of number of entries.

Will this be fair? Will the conditions be the same both days? No - conditions always change during a class, sometimes dramatically if a sudden rain storm hits. If you come, you agree to take your chances on what the weather will be, especially if you plan to ride Friday. We will set the course as nearly the same as possible each day.

The

AWARDS PARTY will be Friday between 6 and 9PM. We WILL have a band. We WILL have the Gordon Highlanders! If it is too wet to have the party up on the field, we will have a heck of a barn party down on the porch and inside the barn! In fact, "Barn Party" sounds very good to me!

Wednesday, August 6, 8AM:

We know that many of you out there are frustrated by the back and forth changes on which day is "more likely" for the final Derby Day show and Awards Party. Some would prefer to stick to planned dates and then just do the shows or cancel them completely. We understand.

The only ones more frustrated by this summer of unsettled weather and changed horse show dates than you readers (exhibitors and parents), would be those of us trying to put on the shows for you. It has been the summer from hell for managing horse shows! More than once, Meghan and I have thrown up our hands and been tempted to just cancel the next show completely and wait for show days later in the summer.

But we haven't. We have a big group of riders who come from all over the country to show with us every week. And many other followers of the Longacres Summer Series enjoy showing as much as possible. So we watch the weather and we improvise. And we try to change our schedule ahead of time so you won't often go to a show associated with us and get rained out and have made the drive for nothing.

We are proud that we were able to plan a series of nine shows this summer and we ran nine shows, not counting Derby Day. On three of those nine show days, we changed the date (and once the location for the June Quakerfield make-up show). But we had good weather on the changed days, and we ran a horse show.

Now we're down to the very last event of the 2008 Summer Series and Mother Nature is frowning on us again. We will make a decision tonight on the "least bad" of several poor options. We will have a 2008 Derby and we will give out many great, well earned Championship Awards. And we will breath a sigh of relief when this summer is all over!

And then

- we will immediately start making plans to subject ourselves to the same torture all over again in 2009. Dates for the Longacres show days for 2009 are already posted and three new stables have already requested to be included in our Summer Series schedule next year. For better or worse, and in good weather and bad, we will be back!

Saturday, August 2, 8PM:

THANKS to Quakerfield Stables for hosting a really terrific final show in the 2008 Summer Series! Noreen and all her staff were wonderful to work with. The weather started out early this morning with strong thunderstorms but the show grounds were only a bit wet. The rain then stopped about 7 AM and the ground began to dry. By the time the show began at 11 it was still slippery but the sun was out and it was improving by the minute. By the end of the first few classes, the footing was very good and it was excellent by the end of the day. Thunderstorms passed very close to us several times and the sky got dark. But it only sprinkled a bit a few times. A great day for a show!

We will post points tomorrow night or Monday night. We're headed out for Pasquale's dinner and Kone King - then home to SLEEEEEP!!!!!!!!

We did take many pictures at the show today. Click

this link for pictures from Meghan's camera which are mostly of our girls. Try this link from my camera which includes a lot of atmosphere shots showing other exhibitors and their families enjoying the show day at Quakerfield. And this link for the little camera that we give the girls to get some more candid shots!

The show today was very competitive and many of the season championship high score awards went right down to the final class of this show in each division. Unofficially, it looks like Andrea Bennett locked up the Horse of the Year cooler today in Pony Hunter. Jumper Horse of the Year is much too tight to call until we tabulate every point in every class. We'll know by Monday night - maybe tomorrow night. Since we give out trophies four places back in 13 different divisions, MANY riders will get awards next weekend.

July 31, 1PM:

Click

this link for pictures of just a few of the many Championship Coolers we'll be giving away on Derby Day next Friday and at the Awards Party later that night! We went with a new embroidery service this year that gives much better service and larger lettering for the money than we had in previous years. And the Season Champion trophies will be as large as always! Remember that the trophies go four places back in each and every Summer Series Division. Check the points at this link to see if you might be up for a trophy!

July 30, 12:30 PM:

Summer Series horse show points are posted at

this link now. We have checked them all over pretty carefully, but if you think there is a mistake in your points, call us soon so we will have time to check your points.

All shows during the season count for the High Score Awards in each division. Only your best eight shows out of nine count for the "Horse of the Year" awards. If you have missed one or more shows, this does not matter to you. If you have attended every single show, we will drop the points from your worst show for Horse of the Year Awards. We THINK that every horse that is up for Horse of the Year has missed at least one show.

Pictures! -

Click this link to see an album of pictures from today's show (July 26). Many are decent, some very good and a few are wonderful.

ALSO -

click this link for another album of pictures from the July 26 show. And if you want to see even more from the Friday show, go to this link on our Longacres news page to see more than a hundred more.

July 26, 1PM:

COOL!!!! We got both days of showing in with only a few drops of rain and mostly sunshine this morning!

(Actually it is now 6PM and it rained only a few drops all day - we could have run the whole show today, but it worked out fine for everyone to split it over two days.)

Thanks to Quakerfield, Hunters Ridge, and all the rest who came out Saturday for a great little show. We just finished at a little before 1PM.

We'll see you all at Quakerfield next Saturday (NO rain, please!)

- Tom & Meghan

POINTS for Hasty Hills are up now (Wednesday 7 AM) - Longacres points will be up in a few hours - Tom

= = = = = = = = = = = = = = = = =

Judging Committee?

For our 2009 season, we're planning to form a judging selection committee including one person from each stable that plans to take part in the Longacres series. You will have a chance to be part of the selection process. You will also find out first hand that it is hard to please everyone all the time!!!!!!!!!!!!!!!!!!!!!!!!!!!!!!!!

- Tom

Longacres Summer Series Dates for 2008 -

Click Here

Click here for Points updated June 26th:

Click here for Points updated July 1st:

Click here for points Updated July 9th

Click here for points updated July 14th

Click here for points updated July 19th

Click here for points updated July 25 & 26th (These will be up soon)

Sorry for the further delay. We really were going to be done last night, but Robyn fell off schooling a green horse last night and we took her to the emergency room for X-rays. She is bruised but will be fine. Meghan worked on points off and on while she was at the hospital and finished getting Hasty Hills done, which is posted now. The Longacres points will be posted in a few hours.

Points issues?

Remember that you have until the end of the next show (July 19) to ask us to check or correct any points mistakes. Compare all the files above to see what you were credited with from the different shows. We are constantly making corrections to the point totals - we think we are now up to date (7-14-08)

THANKS to our Series Sponsors!!!!!!!!!!!!!!

Click here for a list of our valued Summer Series Sponsors!!!!!!!!!!!!!!!!!!!!!!!!!!!

Entry and Grounds fees to Rise at some Series shows this summer:

We hate to raise any rates and add to the expense of showing which is already so high this year with increased fuel and other costs. But our costs of preparing for and running shows are way up this year. Longacres and most other stables in the Series will be charging $15 entry fees for most classes, $20 for Jumper & Medal Classes, and $20 grounds fee, up $3 and $5 respectively from last summer. This is in line with Northfield Farms and most of the North West Summer Series shows fees this year.

To give you an idea of how this affects the balance sheet, Longacres will make about $200 to $250 extra on the new grounds fees and an average of about $600 from the increase in entry fees. Or for our four shows, about $2500 more than last year.

At Longacres, we have already spent $2000 on driveway improvements, $3000 on new jumps, $1500 on painting and repairing jumps, and many hundreds on mowing and maintenance to the show fields. Do the math - even with the increases in entry and grounds fees, we're $4000 in the hole before the show season even starts. So, we apologize for the price increases, but we hope you understand the need. We pledge to try to give you good value for your money!! The other stables in the series have put in similar investments in their show facilities.

Final Points for 2007 Show season are posted

here.

Last year's Derby Course and jump-off -

click here

April 23 Update:

More Jump News:

Meghan is constantly collecting and shopping for more new jump materials for all the improvements to the Longacres jump courses for 2008. The picture above shows Meghan with a new set of decorative wagon wheels and some of her large collection of birch logs. The new "natural line" on the outside hunter course will have wishing well and natural stand and rails jumps. Both will include the new wagon wheels and birch logs as part of the decorative theme. This is one example of what Meghan and her crew are preparing for our enhanced hunter course experience. Meghan wants me to make it clear that the picture at the top of the page

here is just to show you the materials - she will have LOTS more birch logs at each jump!

We've written earlier this spring about all the new "Jumper Course" jumps, including the Butterfly Jump, Kone King jump, and the Sunburst jump. We're making good progress with those. Longacres has always had well painted and colorful Jumper courses, but we had to admit that Liegh over at High Time/Sugarbrook Farms probably had the most impressive jumper courses in Western New York. With our new 2008 jumps we'll give them a good challenge for most dramatic jumper courses in western New York.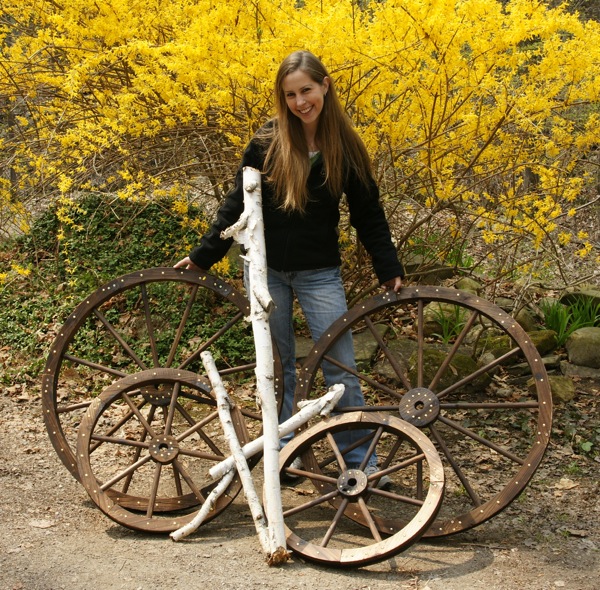 2008 Summer Series Sponsors!

May 22nd: LOTS more Sponsors!!

Longacres and the Summer Series send out a huge "Thank You" to all the new Series sponsors coming on board for the 2008 season! Thanks to "Magellan Advisory Services" and the Hiczewski family for sponsoring Schooling Jumpers. Thanks to Liz Burruano and Miranda for sponsoring the Walk-Trot Division. Thanks to Sam and Grace Burruano for sponsoring the Hack Division; Thanks to Marina and Joseph Miguel Roncon for sponsoring the Cross Rails jumping Division. Last, but certainly not least, Olivia Miranda and Yvette Miranda will be sponsoring a division of the Summer Series' choice, which is a great help to us! All of the above are riding and showing out of Bridgeman Stables with Farley Bridgeman, along with the Bennett's, Puffers, and others.

The Summer Series also thanks Noreen Laks and Quakerfield Stables for her generous donation of three Season Championship trophies. Thanks Noreen!!!!!

We now have only six divisions left that need sponsors. We also could use some "Awards Party" sponsors at the $100 level to cover the costs of all the festivities on August 9th!

April 19th:

We welcome the Bennett and Puffer families again as Summer Series sponsors for 2008! They will jointly sponsor the awards for the Puddle Jumper division. Debbie Puffer's "Pet Stop Pet Fence" business will sponsor "Low and Slow" Hunter. Thanks to both families for joining Missy Bessette as 2008 sponsors. We're already up to 25% of the sponsors needed!

We welcome Missy Bessette of Orchard Park, NY as the first official Summer Series Awards sponsor for the 2008 season. Missy was a sponsor last summer and will again sponsor the "Low Child Adult" hunter division. Without generous sponsors like Missy and her family, the Longacres Summer Series would not be what it has become. Thank you Missy.

If you and your family or your family's business would like to sponsor a Division for the high point awards, call Meghan or Tom at Longacres. The cost to sponsor a division is $150. We print the names of our sponsors in each week's show news and announce them at all the shows and at the Awards Banquet on August 9th. If you pledge your sponsorship early, we have a full season to express our thanks.

It is fitting that we get our first sponsor pledge on a day when we are actively planning the MANY new jumps for the Longacres series of shows. We visited Quakerfield Stables this morning and took pictures of the way some of their jumps are built to help our carpenters as we work on our own new jumps. Diane and Noreen from Quakerfield send a big "Hello" to everyone in the Summer Series, and we all look forward to getting together for the first show at Pony Club June1st!

Bagpipes!

The Gordon Highlanders pipe band will again appear at the Derby festivities and Awards Party on August 8th. Most of you really like the bagpipes, but just in case you or your horse don't, take note. ALSO, the "Little Louis Band" is planning to provide pre-party and intermission entertainment for the awards ceremonies.

Jumper Derby & Awards Party

August 8, with rain dates the day before and after - STAY TUNED!

Directions to Longacres:

From the center of East Aurora, take NY #20A west from the traffic circle 1/4 mile and bear left onto Mill Street just opposite Monroe Muffler. We are three miles out Mill on the right. Use the second Longacres driveway with the sign for the "Barn Entrance"

Points

- FINAL 2007 points are now posted. - click here
Above: Debbie and Casey Puffer. Casey had a GREAT day at Quakerfield last summer, showing that guys can get it done at horse shows, too!

-

CLICK HERE for Series Show dates

2007 Summer Series Division Sponsors - THANKS!

Sponsors! -

Thanks to last year's Division Sponsors!

"Tim Nunn & La Hots" - Walk - Trot,

"Steele Fitness of Orchard Park" - Cross Rails;

"Puffer and the Bennett Family" - Low and Slow,

"Susan Winant"- Pony Hunter;

"Corporate Consultants Private Investigations" - Baby Hunter

"Missy Bessette" - Low Child Adult

"Frank Schlossin, Jr Horse Trucking & Training" - Special Hunter;

"Ray Laks Honda & Noreen Laks" - Low Hunter

"Pet Stop Pet Fence Systems" - Hack Division

"Oral Maxillofacial Surgery Associates of WNY" & The Boyczuk Family - Child/Adult Medal

"Longacres Riding Camp" - Puddle Jumpers

"Thepicturelady4u.com" - Schooling Jumpers

"The Salvadore Family" - Special Jumpers

Awards Party Patrons:

"Oral Maxillofacial Surgery Associates of WNY" & The Boyczuk Family

"High Time Stables" & Leigh Fischer

The Osadchey Family

The Ellis Family

Anonymous

Tony Olivo & "The Girls!"

Rich & Patty & Schneider Remodeling

Weber's Nurseries

Bill Stetz

Tim Nunn & LA Hots Food Stand

Erie Niagara Neurosurgery of Orchard Park

"Bit-n-Blanket Tack Shop" of Elma is sponsoring Horse of the Year and Reserve Coolers (and is STAYING OPEN!)

Longacres Riding Camp is sponsoring Jumper Horse of the Year Cooler

Thank you! ALL divisions had Awards Sponsors in 2007! Awesome!

We will again be looking for Division Champion Awards Sponsors at the $150 level, and Awards Party Patrons at the $100 level to cover costs of

THE PARTY August 9th!

Want Photo's?

Check Lori's website here: thepicturelady4u.com

Click

here for Longacres Show Info and Derby Info

= = = = = = = = = == = = = = = = = = = = = = = = = = = = = = = =

Below: Ad for Longacres

Send Your Horse to Camp!

Does your horse need some polishing up??
Do you not have time to ride??

Or do you just need a break from the responsibility??
Or Going on Summer Vacation????
Send your horse to Camp!!!!

Longacres has a program where we accept peoples' horses to be "sent to camp". Some people have horses not being ridden enough and want their horses to be ridden in a quality program. Others have horses that can profit by showing at Summer Series shows during the summer. This is also an opportunity for people with sale horses. Our students come from all over the country and sometimes have the ability to purchase a horse while they are at Longacres. In addition, the horses are seen regularly at local shows and announced "for sale" and will get a lot of exposure.

We usually have 5-6 horses every summer in our barn in this program and we generally sell 1-2 of these horses every season. Longacres is able to accept a couple more horses or large ponies for our 2008 camp season.

For More Details, call Tom or Meghan at Longacres (716) 652-9495 www.longacres.com

New at Longacres Horse Shows in 2008:

Although Longacres runs primarily hunter and jumper shows, we are interested in cross country and eventing. We will be adding two classes to all our 2008 horse shows for eventers. There will be a long modified hunter/cross country hybrid course including most of the regular hunter jumps, the bank and Pulverman, and several new log jumps and coops for a total of 15 or 16 jumps. The course will be run at two heights as two separate classes, and will be run at the same time as Warmup Hunter, right at the beginning of our shows. This way interested eventing riders can come at a known time, and ride without having to wait around all day. There are quite a few Combined Training riders in western New York to begin with. Many of our Longacres riders will want to try this. In a way it will be a mini-Jumper Derby at every show and that will also give riders interested in the annual Derby a chance to practice often over more natural obstacles. We held this new event at our last three Longacres shows in the 2007 season and more riders entered each time. We look forward to seeing more entries in 2008. Should be fun!

2008 Jumper Derby: Some New Things!

The 2008 Longacres Bold Jumper Derby is now scheduled for Friday, August 8th, 2008 with rain dates Thursday or Saturday, depending on the weather forecast. We try to learn each year from our experiences about what most appeals to riders who come to the Derby. Everyone has liked the format in recent years that includes low height Beginner and Puddle Jumper Derbies the morning of the main events, and we'll do that again, with Coolers for all winners.

NYS Team Jumping Championships

By far the most popular Derby event last year was the new Team & Individual Jumping Championship event. We had 28 horses competing from 7 teams! Clearly we need to do that again, and we plan to expand this to a two round event. There will be a qualifying round in the afternoon, and the top fifteen horses will go again in a second round as the first part of the featured evening show with scores to be combined.

High Derby

There will be one additional "High Derby" in the evening, open to all horses and riders. This course will be set at 3' to 3'6" depending on the horses and riders entered. $1000 prize money guaranteed - $400, $300, $200, $100 regardless of how few entries there may be.

NEW BEGINNING LAST YEAR: On Derby Day, August 8th, Longacres will be hosting the Western New York Junior - Amateur Team Jumping Championships. This event will be run as part of the 2'6" to 2'9" Derby. Teams may include 3 or 4 riders, and the best three scores from team members will be combined to determine team awards. We will have gold, silver, and bronze medallions for the riders on the top three teams. All riders will also be scored as individuals and the best will earn individual medals, as well as ribbons.

Longacres will enter at least one team, and perhaps two or three. This will add a lot of fun to an already very exciting day of show jumping at Longacres! For 2008, this will be a two round event, with the qualifying horses showing again in the evening.

Below: Leslie Ann McCullough & "Fini" - Horse of the Year for 2006!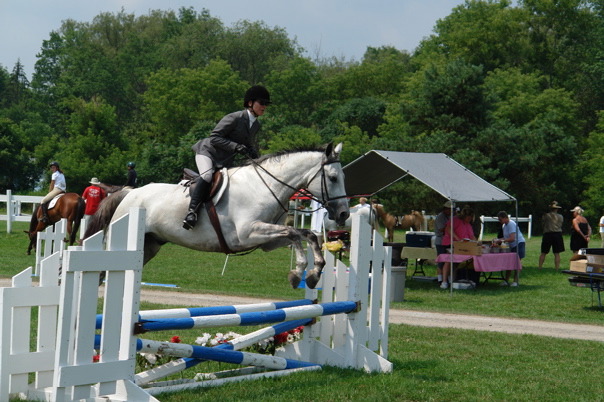 Below: "Dakota Gold" and Andrea Bennett & family - Reserve Horse of the Year for 2006!
Final Point standings for 2006 are now posted.

Reserve Horse:

"Dakota Gold" and "Peppy on the Go" are within one point of each other for Reserve Horse of the Year, with several judges cards still to be double checked to determine the winner. SO-O-O-O, we are getting a second Reserve Horse of the Year Cooler and will award one to each of these horses!

Click here for an album of pictures of various riders

Scroll down for Jumper Derby details!

Longacres Derby Day, August 8th:

There are some changes coming to the Longacres Derby Day this year!
There will be four Derbies at different heights
This year, horses and riders MAY cross enter between as many of the five sections as you wish; you may choose to compete in more than one section for schooling purposes or to go for more money in the top two sections. (except Beginner Derby - no cross entries from this height)
The two lowest Derbies will begin at 11am and should be done by 1 PM; Qualifying round of the 2'9" NYS Team Jumping Championship will begin at 2PM. Second round of the Team Jumping for the top fifteen qualifiers will begin at 5:45. Open "High Derby" will go at about 7:15PM. Keg is tapped at 4PM, bar opens 5PM, Calcutta Auction at 5:30 PM;
There will be electronic timing used for all four events
We will have "Longacres Jumper Derby 2008 Champion" coolers for the winners of each of the four heights (exception - only one cooler per rider; if you win at two heights, the cooler goes to the horse with the next best score in your second class) The two lower sections will ride for the Cooler and large ribbons.
Beginner Jumper Derby - 2' or less - Cooler & 6 ribbons - entry fee $45
Puddle Jumper Derby - 2'3" - Cooler & 6 ribbons - entry fee $45
Team Jumper Derby - 2'6" - 2'9" - Cooler & 6 ribbons - entry fee $50 per horse

On Derby Day, August 8th, Longacres will be hosting the Western New York Junior - Amateur Team Jumping Championships. This event will be run as part of the 2'6" to 2'9" Derby. Teams may include 3 or 4 riders, and the best three scores from team members will be combined to determine team awards. We will have gold, silver, and bronze medallions for the riders on the top three teams. All riders will also be scored as individuals and the best will earn individual medals, as well as ribbons.

Prize Money for the Team Jumping event will be paid to the individual horses with the highest scores - $1000.00 Team Derby at 2'9" - Cooler, ribbons, $350, $250, $150, $100, $100, $50 - entry fee $50 per horse
$1000.00 High Derby - 3'3" to 3'6" (jump-off to 4') - Cooler, ribbons, $400, $300, $200, $100, - entry fee $100 - Money is guaranteed this year regardless of number of entries.
Schooling Days - horses and riders may school the special obstacles at Longacres by appointment prior to the day of the show. There will be no schooling over the course the day of the show, except that you may cross enter to lower sections as a schooling experience.
Special Calcutta - All horses in the evening round of the Team Jumping Derby will be auctioned in a Calcutta. Time permitting, there will be a second Calcutta for the High Derby. The house takes no cut - all money paid out.
The course will include about 25 obstacles including the Irish Bank, Pulverman, and real water. There will be an option to the water in all sections and an option to the bank only in the Beginner Jumper Derby.
Check here for more details or call Tom at 716-652-9495

Late change in Derby entry rules and conditions:

Horses and riders will not be allowed to cross enter into the lowest height (less than 2') section if they are showing in any higher section. This section is reserved for those who are not comfortable with any higher section. Cross entries are allowed between all other sections. ALSO: In the lower two sections, our goal is for you to have FUN and get around the course. You will be allowed to go on to the next jump if you have two refusals at any jump, carrying the four faults for each refusal. If you have schooled badly over a particular jump and wish to take your two refusals and go on to the next jump, you may pull up in front of the jump, signal the judge that you intend to bypass, and go on to the next with eight faults.

In the Team and High Derbies, normal rules apply and two disobediances will eliminate.

All Longacres show

s: Click here for Longacres prize list and schedule. Note that Puddle Jumpers will show on the outside course. Also, we are now opening the inside ring with X-rails jumping as the first class so riders may use it as a warm-up for their outside classes if needed.

2006 Horse Of the Year Final Standings:

Following are our top three in the point standings: Note - some corrections are possibly to come

1 - "Fini" - Leslie Anne McCulloch -

2006 Horse of the Year !!

3 - "Peppy on the Go" - Jessica Salvadore -

2006 Reserve Horse of the Year - (tie)

2 - "Dakota Gold" - Andrea Bennett -

2006 Reserve Horse of the Year - (tie)

Thanks to our Valued Sponsors for 2006:

Walk-Trot division - Steele Fitness of Orchard Park

X-Rails Horsemanship - Puffer & Bennett Family

Low & Slow Hunters - The Salvadore Family

Baby Hunter - Tim Nunn & "La Hots"

Pony Hunters - Susan Winant

Hack Division -

Low Child/Adult -

Special Hunters - Farm Family Insurance

Low Hunter - Kathleen Benjamin & Autumn View Farm

Medal Division Equitation - Jeremy Green & Fox Run Limited

Puddle Jumpers - Longacres Riding Camp

Schooling Jumpers -

Special Jumpers - Ray Laks Honda & Noreen Laks
Tom & Meghan - call if you have a question - 652-9495
Premium Building Lots at Longacres Farms -
Click here for info

Scroll Down

for Summer Series Horse Show Info!!

Hope everyone is having a good winter riding season and that you're looking forward to the Longacres South Towns Summer Series next spring!

Click

HERE for Longacres Prize lists

Click

HERE for Summer Series Divisions and Rules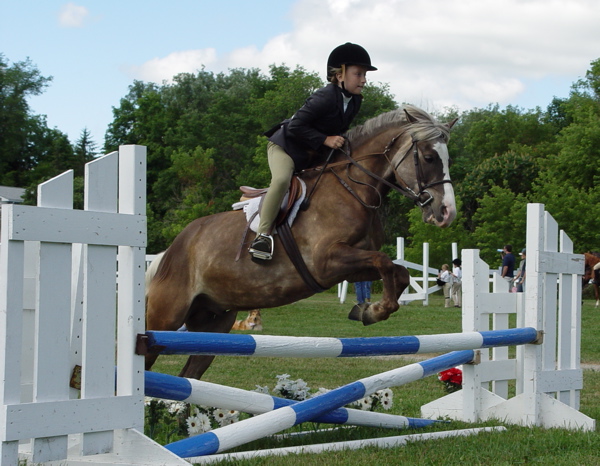 Below 2005 Season - Champions all: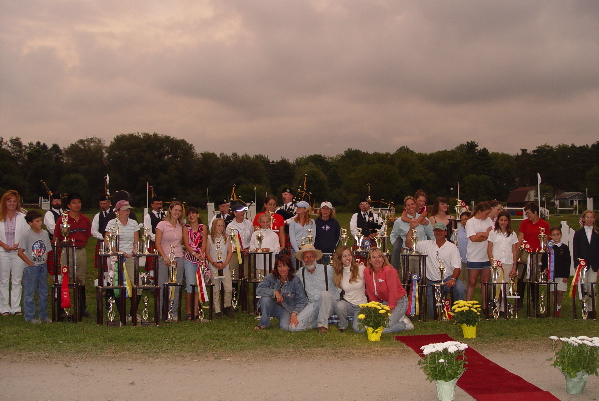 Click here for Season Championship Point Standings & Info
Horse Show Dates for 2009:
Start making your plans for the GREAT FUN 2009 South Towns Summer Horse Show Series, managed by Longacres!
NOTE: There has been some uncertainty over 2009 show dates. We believe the following dates and shows will all be part of this year's Longacres South Towns Summer Series. Check before you go.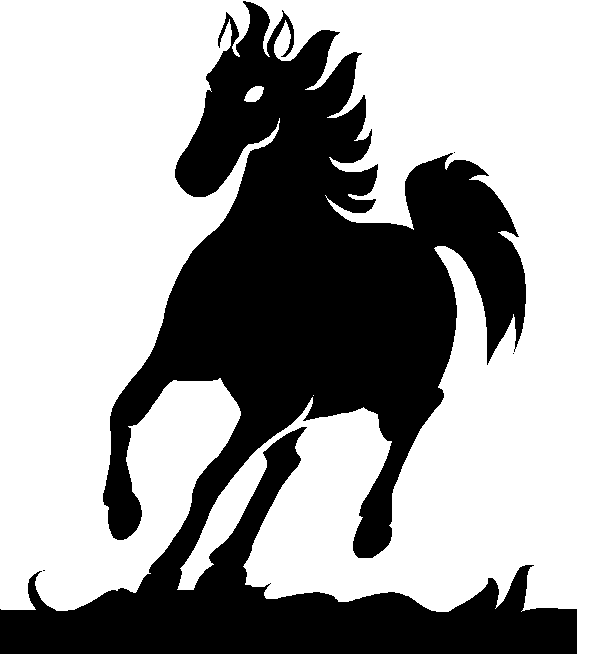 Season Championship Party and Awards at the August 15th Longacres "Derby Day".
www.longacres.com/shows.htm
Longacres will keep track of points from Horse Shows on the following dates:
(MORE will be added in the coming months!)
Longacres, Saturday, June 20, 11AM
Longacres, Sunday, July 5th, 11AM
Hasty Hills Farm, July 11th
Longacres, Saturday, July 18th, 11AM
Longacres, Saturday, August 1st, 11AM
Season Championship Party & Awards at Longacres - Saturday, Aug. 15th,
Low Derby Day Events begin at 11AM, August 15th
Awards Party and High Derby Events Begin 5PM, August 15th
Call Tom or Meghan at Longacres - 716-652-9495
The South Towns Summer Series is an informal association of shows dedicated to giving riders and trainers a friendly but professionally appearing horse showing environment. We are the kind of shows where trainers are welcome to enter the ring if a student needs help, with no one making a big deal of it. But we are also the kind of horse shows where you can expect to see freshly painted jumps, flower boxes and brush on your courses. Formal dress is not required in beginner classes. Season Championship high score awards will be presented in all divisions at the annual final awards party at Longacres on Aug. 9th.
Other 2009 Show Dates of interest:
Erie County Fair - Tuesday - Thursday, August 18 to 20th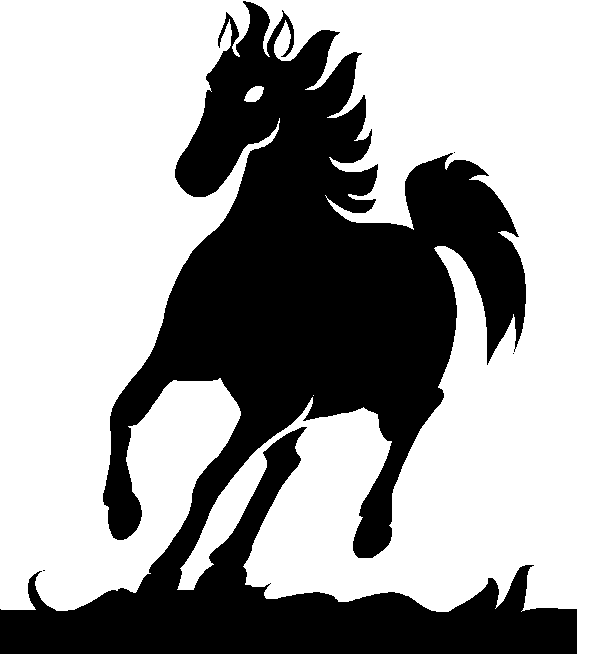 (slight changes possible for this year - check back here before show)
Longacres Horse Show Prize List
Show Grounds - 1745 Mill Rd. East Aurora, N.Y. 14052
For Information: (716)652-9495 or www.longacres.com/shows.htm
Click
this link
for 2009 Prize List
For Info: Longacres - 716-652-9495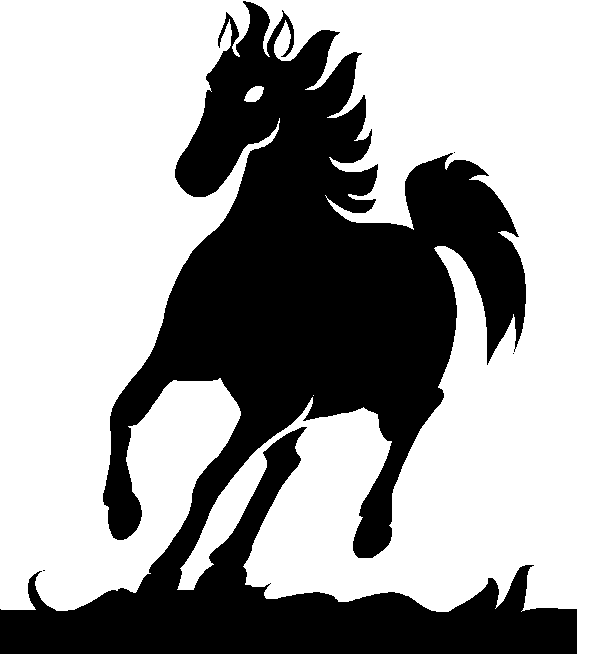 South Towns Summer Series 2009 Season Championship Sections
NOTE: Some small changes are expected for 2009
Longacres and any other 2008 participating shows agree to sponsor 11 championship divisions with each show in the series offering similar conditions and specifications for the following divisions and with the Longacres South Towns Summer Series presenting Season Championship Awards in each of these divisions. The Championships will be awarded at the final show in the series on the same night as the Longacres Jumper Derbies.
Each show in the series will also be offering additional classes and divisions which may vary from one show to another, and which will not count for the official Series Championships.
~South Towns Summer Series 2009 Season Championship Sections~
1) Walk-Trot - Any class including "walk-trot" in the specification shall count towards this season championship. These classes may include trot over ground poles, caveletti, etc.
2) X-rails Horsemanship: Any class offered at a member horse show that shows over X-rails jumps shall be included in this championship. Many, but not all of the shows will offer separate X-rails divisions for those trotting corners and those cantering the full course. Both count towards the championships. Each show may decide whether to allow cross entries. Classes may be designated as horsemanship, hunter, or equitation, and all will count towards the same Season Championship. (Your best 3 classes out of any division count for points.)
3) Low & Slow/Novice Rider Hunter: Fences 2' to 2'3" - not for professional riders
(NEW division added for 2006)
4) Pony Division: Open to all ponies Fences 2' to 2'6" (each show may set appropriate fence heights) (NEW division added for 2006)

5) Baby Hunter - 2' to 2'3" - this division is open to all riders (including professionals) open to inexperienced horses or ponies in their 1st or 2nd year over fences - see each member show's prize list.

6) Low Child / Adult Amatuer Hunter - 2'3" TO 2'6" (Each show may choose to offer separate classes for Children and for Adults or to combine the class, but the divisions are combined for the Season Championship.)

7) Special Hunter - 2'3" to 2'6" - open to all horses & riders

8) Low Hunter - 2'9" to 3'3" - Open to all horses & riders

9) Hack Championship - Several classes at each member show shall be designated as counting towards this Season Championship, and may include Pleasure Horse, Road Hack, Bridle Path Hack, etc.

10) Child-Adult Amatuer STSS Medal/Equitation Classic Series: Prize lists may call this class a "Medal" or an "Equitation Classic", using appropriate scoring procedures. Open to riders of any age. The South Towns Summer Series will sponsor Equitation Medal classes at two fence heights. Low Medal will show at 2'3" to 2'6" and High Medal will show at 2'9" to 3'3". Ribbons and a Medal will be awarded in each class. Riders in each Medal class shall show over fences and riders called back shall perform an additional test. Season Championship STSS Awards for both sections.

11) Puddle Jumpers - 2'6" or less

12) Schooling Jumpers - 2'6" to 2'9"

13) STSS Special Jumpers - 3' to 3'6"

Jumper "Horse of the Year": the Summer Series will present a separate "Jumper Horse of the Year" cooler

South Towns Summer Series Website!

We will try to post stories and photo's of horses and riders taking part in the Summer Series shows on our "horse shows page" - www.longacres.com/shows.htm . All individuals or stables are welcome to submit stories via email, or digital photo's (website size - smaller than 150k files). With a little help from all participating stables, this will be a fun addition to the 2006 Southtowns Summer Series!

Longacres Winter Horse Loan Program

For many years Longacres has loaned out our horses to families that would care for and ride them from the end of our season in August until next June. There is no charge for taking our horses. Check our website (www.longacres.com ) for details! It is a perfect program for someone who wants a companion horse or who wants to try horse ownership for a year with our horse before taking the plunge to buy your own permanently.

Point Standing Information:

Horse Show Points Scoring:

Points are earned in each class in each of the STSS divisions.

Points earned are: 1st = 5; 2nd = 3; 3rd = 2; 4th = 1

Champion = 5; Reserve = 3

Each horse & rider combination is unique and has a unique and permanent STSS horse #

If you get a new number at a subsequent show, be sure to give them your permanent STSS # for the results sheets.

For each horse/rider combo there will be one row on the spreadsheet covering the entire season. Each show listing will begin with the "Show #".

A horse/rider combo will have separate rows in the spreadsheet for each STSS division entered.

2004 Horse of the Year was California Girl, Alana Cieri - Reserve - Game Plan, Alana Cieri

Reserve Finalist - Quantum Leap & Tovah Abrams - 124 points (schooling jumper)

Reserve Finalist - Charlotte's Web & Faith Robinson - 130 points ( X-rails horsemanship)

A 2004 Story of the Week; send YOURS for this season:

PS - All Summer Series participants are welcome to email us your horse & rider stories for publication on this Summer Series website.

Email address here

Final Point Standings and Champions for 2006 Series!

Below - Top Four in each division - trophy winners! (All Points follow)
Walk-Trot Division #1

1

Jenna Salvadore

Sundae Swirl

319

54

1

Jaclyn Steele

Mick Jogger

498

48

1

Michelle Kirsh

Charlie Brown

239

24

1

Alexis Lewis

Black Magic

335

17

X-Rails Horsemanship Division #2

0

2

Andrea Bennett

Dakota Gold

504

95

2

Shelby Lehr

Willingly

342

46

2

Jessica Salvadore

Peppy On the Go

540

43

2

Sara Weigel

Impromptu

41

34

Low and Slow/ Novice Rider Hunter #3

0

3

Jessica Salvadore

Peppy on the Go

136

96

3

Andrea Bennett

Dakota Gold

504

32

3

Dawn Karcher

Gus Because

489

18

3

Hannah Puffer

Just Zippin

499

18

Pony Division #4

0

4

Lauren Rotella

Chunky Monkey

137

80

4

Hanna Cimperman

Here Comes Trouble

116

66

4

Rachael Lonzcaki

For Petes Sake

333

38

4

Annie Lufkin

Tsk Tsk

31

18

4

Samantha Robinson

Wishful Thinking

317

18

Baby Hunter #5

0

5

Leslie Anne McCulloch

Fini

140

146

5

Ashley Glica

My Guy Mooney

135

30

5

Jaime Bates

Gold Digger

125

27

5

Madeline Robson

Take Five

33

25

Low Child / Adult Amatuer Hunter #6

0

6

Ashley Glica

Silverado

538

69

6

Leslie Anne McCulloch

Fini

140

59

6

Christine Stephan

Follow This

306

25

6

Denise Serio

Arki

308

18

6

Jessi Carr

Another Good Thing

18

18

Special Hunter #7

0

7

Noreen Laks

Cavanaugh Classic

535

84

7

Leslie Anne McCulloch

Fini

140

59

7

Jaime Bates

Washed Out Color

575

24

7

Sydney Clark

Gucci

106

18

Low Hunter # 8

0

8

Jessi Carr

Another Good Thing

127

69

8

Noreen Laks

Cavanaugh Classic

591

38

8

Kelly Hill

The Whole She-Bang

478

18

8

Kahley Stone

Gus Because

322

17

Hack Championship #9

0

9

Leslie Anne McCulloch

Fini

140

120

9

Rachael Lonzcak

For Petes Sake

333

37

9

Meghan Fuller

Sonny's Gray Ghost

101

20

9

Christina Pufal

Scimitar

548

19

Child-Adult Amatuer STSS Medal #10

0

10low

Ashley Glica

Silverado

538

15

10low

Christine Stephan

Follow This

306

6

10high

Ashley Glica

Up in Smoke

318

7

10high

Dana Pauley

Say Cheese

118

6

Puddle Jumpers #11

0

11

Kelly McCaskey

Legacy

115

65

11

Miranda Mazzariello

Wisher

111

44

11

Emily Peterman

Peppermint Patty

1

31

11

Amy Friedman

Cavanaugh Classic

322

23

Schooling Jumpers #12

0

12

Shelly Kearney

Devil Horns

324

89

12

Ashley Glica

Silverado

134

59

12

Emily Peterman

Peppermint Pattie

1

19

12

Jennifer Levi

The Whole Shabang

25

17

STSS Special Jumpers # 13

0

13

Amy Friedman

Accord

532

84

13

Shelly Kearney

Devil Horns

324

81

13

Jaime Bates

Light Touch

312

24

13

Dana Pauley

Say Cheese

118

16
Points Update as of 5 AM, 8-7-07:
NOTE: This points file is updated with the points from all shows. Great care has gone into the tabulations, but if you think we have made a mistake, CALL Meghan by 9PM Tuesday night, and we will check again. After that time, points will be considered final.
AWARDS will be made to the top four horses in all divisions on August 10th!!! (or Derby Day if date is changed)
Horse of the Year is Fini with 109 followed by Spectacular with 107.
Jumper Horse of the Year is Devil horns with 96 .
| | | | | |
| --- | --- | --- | --- | --- |
| STSS Points 2007 | Rider Name | Horse Name | Rider # | Total pts |
| | Walk Trot | | | |
| 1 | David Laks/ Noreen Laks | Cavanaugh Classic | 815 | 83 |
| 1 | Lauren Boyczuk | World Prince | 686 | 34 |
| 1 | Gabriella Olivo | LB | 787 | 27 |
| 1 | Alexis BruzgulLauren & Lindsey Gantz | A Little Piece of Heaven | 811 | 23 |
| 1 | Hannah Hitchcock | Snickerdoodles | 268 | 21 |
| 1 | Amanda Endrizzi/Kellie Hunn | One in a Million | 682 | 21 |
| 1 | Maryellen Devic/Katherine Moeller | Mimi's Dream | 809 | 16 |
| 1 | Rebecca Frank | Real Sharp Shadow | 709 | 13 |
| 1 | Morgan Adams | Sherman the Tank | 272 | 13 |
| 1 | Danielle Taylor | King of the Rock | 801 | 12 |
| 1 | Miranda Burruano | The Wiz Kid | 752 | 11 |
| 1 | Francesca Olivo | Dakota Gold | 715 | 11 |
| 1 | Casey Puffer/Margaret Ritchie | Corona with Lime | 240 | 9 |
| 1 | Heather Lowitzer | Ain't Misbehavin' | 864 | 9 |
| 1 | Mattie Klein | Silent Promise | 250 | 8 |
| 1 | Kendall Kowakzewski | Hartland Forever After | 830 | 8 |
| 1 | Mary Tomani | Zip A Dee Do Dah | 826 | 8 |
| 1 | Danielle Taylor | DiscomBOBulated | 780 | 7 |
| 1 | Adam Roabli | John | 278 | 7 |
| 1 | Angela Cwiklinski/Caroline McCormick | Ready Revenge | 817 | 6 |
| 1 | Jaclyn Steele | Mick Jogger | 230 | 5 |
| 1 | Sarah Klocke | Copper | 266 | 5 |
| 1 | Jaclyn Steele | Sierra | 253 | 5 |
| 1 | Ruby Duncan | Charlie Brown | 683 | 4 |
| 1 | Kelsey Evoy | Edna | 271 | 3 |
| 1 | Gabriella Olivo | Dakota Gold | 714 | 3 |
| 1 | Gabriela Olivo | Rebel | | 3 |
| 1 | Jenna Lawson | Looks Are Deceiving | 806 | 3 |
| 1 | Francessa Olivo | Colt | 788 | 2 |
| 1 | Alisa Sneade Koening | Diva Marie | 248 | 2 |
| 1 | Jamie Klein | Skip A Rock | 261 | 1 |
| 1 | Morgan Adams | Missy | 272 | 1 |
| 1 | Maggie McCooey | Forever More Footsteps | 831 | 1 |
| 1 | Meranda Zent | Bubba Gum | 250 | 1 |
| 1 | Cassandra Ellis | One of a Kind | 861 | 1 |
| | | | | |
| | Cross Rails | | | |
| 2 | Griffin Sullivan | Rebel | 695 | 96 |
| 2 | Jaclyn Steele | Mick Jogger | 696 | 74 |
| 2 | Shannon Becker | Given the Chance | 789 | 58 |
| 2 | Casey Puffer | Corona with Lime | 240 | 30 |
| 2 | Dawn Klein | SDF Sensation | 225 | 20 |
| 2 | Brooke Osadchey/Anne Dybinisky | L.B. Famous | 688 | 18 |
| 2 | Hannah Hitchcock | Snickerdoodles | 268 | 17 |
| 2 | Kristen Wetzel | Agenda Sundance | 711 | 15 |
| 2 | Jenna Alico | Colt 45 | 786 | 15 |
| 2 | Isobel Brinkworth | Remember Me | 12 | 15 |
| 2 | Alexandra Ellis | One of a Kind | 692 | 14 |
| 2 | Lauren Swaciak/Shelby Lehr | Copper Sky | 222 | 13 |
| 2 | Michelle Kirsh | Pony Express | 851 | 11 |
| 2 | Kaley Kawi | Haidis Black Magic | 13 | 10 |
| 2 | Brooke O'Sadchey/Danita Blowers/Laura Foster | Rock Star | 688 | 9 |
| 2 | MaryEllen Devic | Mimi's Dream | 809 | 6 |
| 2 | Cristina Pufal/Emily Slominski | Sheila | 699 | 5 |
| 2 | Danielle Taylor/Danita Blowers | King of the Rock | 801 | 5 |
| 2 | Megan Siska | Play It Again | 245 | 5 |
| 2 | Gail Notaro | Duke | 262 | 4 |
| 2 | Jacki Wolf | Dakota Jack | 679 | 4 |
| 2 | Alexandra Allan/Margaret Guth | Charlie Chaplin | 237 | 4 |
| 2 | Marta Tomaszewski | Unintended Perfection | 853 | 4 |
| 2 | Jamie Klein | Skip a Rock | 261 | 3 |
| 2 | Roseann Deni | King of the Hill | 721 | 3 |
| 2 | Amanda Endrizzi | Wishful Thinking | 784 | 3 |
| 2 | Emma Bray | Polliwog | 247 | 3 |
| 2 | Angela LeBlanc | Dekamerad | 232 | 3 |
| 2 | Brianna Fallon | Most Valuable Player | 803 | 3 |
| 2 | Roseann Deni | Fabio | 721 | 2 |
| 2 | Kelsey Envoy | Edna | 271 | 1 |
| 2 | Kateri Schurm | Ebony | 213 | 1 |
| 2 | Mattie Klein | Silent Promise | 238 | 1 |
| 2 | Sarah Klocke | Bubba | 243 | 1 |
| 2 | | | | 0 |
| 2 | Low and Slow | | | 0 |
| 3 | Casey Puffer | Corona with Lime | 807 | 57 |
| 3 | Laura Avino | The Wiz Kid | 691 | 40 |
| 3 | Michela Badalotta | Given the Chance | 745 | 36 |
| 3 | Jaclyn Steele | Mick Jogger | 696 | 31 |
| 3 | Alexandra Ellis | One of a Kind | 692 | 29 |
| 3 | Marta Tomaszewski | One in a Million aka Unintended Perfection | 853 | 28 |
| 3 | Roseann Deni | Fabio | 721 | 15 |
| 3 | Jessica Salvadore | Peppy On the Go | 723 | 14 |
| 3 | Peyton Uptmor | Pony Express | 785 | 12 |
| 3 | Mary O'Connor | Strawberry Twist | 713 | 11 |
| 3 | Andrea Bennett | Rebel | 705 | 11 |
| 3 | Sara Rimmler | Follow This | 15 | 11 |
| 3 | Andrea Bennett | Dakota Gold | 704 | 10 |
| 3 | Rachael Evans | Just Infalliable | 850 | 8 |
| 3 | Roseann Deni | King of the Hill | 721 | 5 |
| 3 | Annabelle Cleary | ShowDown | 14 | 4 |
| 3 | Cara Murray | Fine Harmony | 55 | 4 |
| 3 | Emily Reville | Shadow of Dreams | 728 | 3 |
| 3 | Elexis Merlino | Twinkle Twinkle I'm a Star | 818 | 2 |
| 3 | Brittany Krupp | Gus Because | 693 | 2 |
| 3 | Elisa Ditallo | Jurisprudeza | 791 | 1 |
| 3 | Chantrelle Hayes | Luck of the Irish | 45 | 1 |
| 3 | Lindsey Morrett | Sonnen Jewel | 16 | 1 |
| 3 | | | | 0 |
| 3 | Pony Hunter | | | 0 |
| 4 | Andrea Bennett | Dakota Gold | 704 | 67 |
| 4 | Ofelia Erskine Del Principe/Olivia Sahai/Kate Soar/Marta Tomaszewski | One in a Million aka Unintended Perfection | 778 | 59 |
| 4 | Rhiannon McDonell | Copper Sky | 790 | 49 |
| 4 | Kate Soar/ Olivia Sahai/Alexa Riddle | Wishful Thinking | 739 | 37 |
| 4 | Jenna Salvadore | Miss. New Bootie | 216 | 32 |
| 4 | Alexandra Ellis | One of a Kind | 692 | 30 |
| 4 | Delaney Hamill | Maple Bear | 211 | 18 |
| 4 | Tina Robinson | Creme Brulee | 716 | 13 |
| 4 | Erika Lipke | Fox Run's Fools Gold | 208 | 6 |
| 4 | Riddley Schirm | Sunshine | 212 | 6 |
| 4 | Alex Wolf | Lasting Impression | 677 | 6 |
| 4 | Lauren Rotella | Chunky Monkey | 215 | 1 |
| 4 | | | | 0 |
| 4 | Baby Hunter | | | |
| 5 | Kelly Waples/Jamie Bates George | Spectacular | 252 | 107 |
| 5 | Leslie Ann McCulloch | Fini | 702 | 92 |
| 5 | Jamie George | Gold Digger | 17 | 30 |
| 5 | Jessica Salvadore/Ashley Glica | Peppy on the Go | 214 | 26 |
| 5 | Jamie Bates George | Winston | 812 | 16 |
| 5 | Jamie Bates George | Freddy | 719 | 15 |
| 5 | Jamie George | Flicka | 837 | 15 |
| 5 | Susan Dominessy-Schrum | Digger | 264 | 12 |
| 5 | Kelli Dochslander | Picture Perfect | 3 | 11 |
| 5 | Lauren Adornetto | Symba W. | 738 | 7 |
| 5 | Nicole Tarbell | Just Lucky | 234 | 5 |
| 5 | Casey Puffer | Corona with Lime | 807 | 4 |
| 5 | Elexis Merlino | Twinkle Twinkle I'm a Star | 818 | 2 |
| 5 | Diane Perrello | When in Rome | 757 | 2 |
| 5 | Stephanie Challar | Orion's Star | 756 | 2 |
| 5 | Alex Wolf | In Retrospect | 674 | 1 |
| 5 | | | | 0 |
| 5 | Low Child Adult | | | 0 |
| 6 | Olivia Campbell | Dandy's Sweet William | 224 | 74 |
| 6 | Leslie Ann McCulloch | Fini | 702 | 61 |
| 6 | Meghan Fuller | Sonny's Gray Ghost | 731 | 37 |
| 6 | Jamie Bates George/Ashley Glica | Kid Shaleen | 798 | 24 |
| 6 | Darlene Coats | Glendale | 8 | 17 |
| 6 | Andrea Bennett | Rebel | 705 | 16 |
| 6 | Stacy Cavagnaro | Brigadoon | 204 | 13 |
| 6 | Hannah Puffer | Just Zippin' | 749 | 13 |
| 6 | Beth Hackett | Calypso Kid | 43 | 12 |
| 6 | Laura Avino | The Wiz Kid | 691 | 11 |
| 6 | Elaine Pauily | Abby | 231 | 11 |
| 6 | Kaduk Sherpa | Too Good to be True | 246 | 9 |
| 6 | Dawn Karcher | Gus Because | 693 | 9 |
| 6 | Kelly Lawson | Just Emmit | 805 | 9 |
| 6 | Jacyln Steele | Corona with Lime | 69 | 8 |
| 6 | Victoria Logel | Whoop Dee Doo | 200 | 5 |
| 6 | Lauren Rotella | Chunky Monkey | 725 | 4 |
| 6 | Jenna Brinksworth | Charmed | 7 | 4 |
| 6 | Megan Fleming | Last Book | 796 | 3 |
| 6 | Kendall Walker | Power Play | 759 | 3 |
| 6 | Mea Paolini | Lt. Dan | 207 | 2 |
| 6 | Nicole Tarbell | My Little Latte | 233 | 2 |
| 6 | Riddely Schirm | Digger | 263 | 1 |
| 6 | Chloe Withaim-Leitch | Sir James | 799 | 1 |
| 6 | Lauren Swaciak | Say Chesse | 223 | 1 |
| 6 | Hannah Cimperman | Here Comes Trouble | 246 | 1 |
| 6 | | | | 0 |
| 6 | Special Hunter | | | 0 |
| 7 | Leslie Ann McCulloch | Fini | 702 | 71 |
| 7 | Linda Fuller | Bring It On | 233 | 42 |
| 7 | Jamie Bates George | Freddy | 229 | 38 |
| 7 | Kelly Waples/Jamie Bates George | Spectacular | 792 | 35 |
| 7 | Kelli Dochslander | Picture Perfect | 3 | 15 |
| 7 | Jamie George | Gold Digger | 61 | 15 |
| 7 | Katharine Sperandio/Olivia Sahai | Wishful Thinking | 670 | 13 |
| 7 | Jamie George | Flicka | 226 | 13 |
| 7 | Noreen Laks | Cavanaugh Classic | 35 | 13 |
| 7 | Jamie Bates George | Kid Shaleen | 798 | 12 |
| 7 | Karen Berger | Polliwag | 65 | 12 |
| 7 | Claire Voepel/ Ofelia Erskine Del Principe/Kate Soar | One in a Million/Unintended Perfection | 662 | 11 |
| 7 | Jamie George | King of the Hill | 836 | 11 |
| 7 | Carolyn Costa | Last Enchantment | 859 | 11 |
| 7 | Diane Perrello | When In Rome | 757 | 8 |
| 7 | Nicole Tarbell | My Little Latte | 233 | 7 |
| 7 | Lauren Adornetto | Symba W. | 738 | 5 |
| 7 | Cara Murray | The Whole Shabang | 855 | 5 |
| 7 | Brooke Platzer | Rock Rose | 254 | 4 |
| 7 | Hannah Cimperman | Cisco | 221 | 3 |
| 7 | Monca Wlodarczyk | Cinnamon Twist | 206 | 3 |
| 7 | Kimberly Griswold | Follow This | 5 | 3 |
| 7 | Sandra Ahmad | Duke of Earl | 4 | 3 |
| 7 | Stepahnie Chalker | Onions Star | 237 | 3 |
| 7 | Meghan Fuller | Sonny's Gray Ghost | 731 | 3 |
| 7 | Hannah Puffer | Just Zippin' | 239 | 2 |
| 7 | Jacki Wolf | Lasting Impression | 678 | 2 |
| 7 | Erin Cox | All That Jazz | 230 | 2 |
| 7 | Laura Avino | The Wiz Kid | 691 | 1 |
| 7 | Amanda Robson | Just Infallible | 772 | 1 |
| 7 | Laura Foster | Rockstar | 781 | 1 |
| 7 | Kelly Waples | Purple Nova | 57 | 0 |
| 7 | | | | 0 |
| 7 | Low Hunter | | | 0 |
| 8 | Dana Pauly | Charles in Charge | 221 | 23 |
| 8 | Noreen Laks | Cavanaugh Classic | 35 | 18 |
| 8 | Jackie Boyczuk | Luther | 27 | 14 |
| 8 | Jamie George | Flicka | 226 | 13 |
| 8 | Bridget Rachwal | Winter Rock | 276 | 8 |
| 8 | | | | 0 |
| 8 | Hack Division | | | 0 |
| 9 | Leslie Ann McCulloch | Fini | 223 | 109 |
| 9 | Casey Puffer | Corona with Lime | 240 | 40 |
| 9 | Hannah Puffer | Just Zippin' | 239 | 32 |
| 9 | Jaclyn Steele | Mick Jogger | 696 | 29 |
| 9 | Shannon Becker | Given the Chance | 789 | 21 |
| 9 | Meghan Fuller | Sonny's Gray Ghost | 236 | 20 |
| 9 | Alexa Riddle | Wishful Thinking | 852 | 19 |
| 9 | Andrea Bennett | Rebel | 705 | 17 |
| 9 | Victoria Knox | Polly | 244 | 16 |
| 9 | Isabel Brinksworth | Remember Me | 12 | 15 |
| 9 | Ali Wygant | Skip | 708 | 12 |
| 9 | Nicole Tarbell | My Little Latte | 233 | 12 |
| 9 | Barbara Bertsch/Cindy Wilson | MacBeth | 819 | 9 |
| 9 | Tammy Nuttle | Zip to the Sympohomy | 824 | 8 |
| 9 | Amanda McLaughlin | Mai Tai | 202 | 6 |
| 9 | Beth Hackett | Calypso Kid | 43 | 6 |
| 9 | Kristen Wetzel | Agenda Sunshine | 711 | 5 |
| 9 | Linda Fuller | Bring it On | 233 | 4 |
| 9 | Mea Paolini | Lt. Dan | 207 | 3 |
| 9 | Kaley Kawi | Haidis Black Magic | 13 | 3 |
| 9 | JoAnne Fall | Doc O'Day | 236 | 2 |
| 9 | Missy Bessette | Class Act | 49 | 2 |
| 9 | RoseAnn | Fabio | 1 | 2 |
| 9 | Kendall Walker | Mick | 690 | 1 |
| 9 | | | | 0 |
| 10 | Puddle Jumper | | | 0 |
| 11 | Robyn Low/Emmy Hammond/Madeleine Robson/Carolyn Costa | Quantum Leap | 226 | 88 |
| 11 | Emily Peterme/Claire Voepel | Lasting Impression | 660 | 48 |
| 11 | Taylor Fyvie | Aint No Rust On Me | 763 | 36 |
| 11 | Bethany Scarlata | Joc-A-Be | 210 | 30 |
| 11 | Olivia Sahai/Alexa Riddle | Wishful Thinking | 806 | 15 |
| 11 | Beth Harris | Espride Leux | 257 | 13 |
| 11 | Katharine Sperandio | In Retrospect | 668 | 13 |
| 11 | Kathleen Kozlowski | Audi Calypso | 9 | 12 |
| 11 | Emily Petermen/Annie Hankins/Regan Denchfield | Peppermint Patti | 664 | 11 |
| 11 | Alyssa Williber | Fire Starter | 698 | 11 |
| 11 | Jessi Carr | Yayger | 828 | 9 |
| 11 | Hannah Sangillo/Maddy Robson | Agaisnt All Odds | 665 | 8 |
| 11 | Lauren Adornetto | Joe | 736 | 5 |
| 11 | Noreen Laks | Cavanaugh Classic | 661 | 5 |
| 11 | Sarah Erbes | Crown Derby | 259 | 4 |
| 11 | Bill Stetz | Rocketman | 243 | 4 |
| 11 | Annie Hankins/Jen Levi | The Whole Shabang | 663 | 4 |
| 11 | Courtney Preston | Gen-U-Winn Treasure | 700 | 4 |
| 11 | Laura Avino | The Wiz Kid | 691 | 4 |
| 11 | Christina Szalinski | Sterling | 703 | 3 |
| 11 | Emmy Hammond | Last Enchantment | 766 | 3 |
| 11 | Madeleine Robson | Dakota Jack | 38 | 3 |
| 11 | Ashley Holiday | Lyric | 260 | 1 |
| 11 | Alexis Brown | Monticello | 211 | 1 |
| 11 | Kate Soar | White Hot Coals | 662 | 1 |
| 11 | Andrea Bennett | Dakota Gold | 704 | 0 |
| 11 | | | | 0 |
| 11 | Schooling Jumper | | | 0 |
| 12 | Shelly Kearney | Devil Horns | 769 | 71 |
| 12 | Bridget Rachwal | Winter Rock | 225 | 49 |
| 12 | Emmy Hammond | Quantum Leap | 226 | 43 |
| 12 | Meghan Fuller | Windullah | 235 | 24 |
| 12 | Jenn Levi | The Whole Shabang | 767 | 22 |
| 12 | Jenna Roberts | Second Chance | 234 | 19 |
| 12 | Taylor Fyvie | Ain't No Rust On Me | 245 | 18 |
| 12 | Beth Harris | Espride Leux | 257 | 15 |
| 12 | Hanna Cimperman | Cisco | 221 | 12 |
| 12 | Bethany Scarlata | Joc-A-Be | 210 | 11 |
| 12 | Elizabeth Hughes | Kismet | 222 | 8 |
| 12 | Noreen Laks | Cavanaugh Classic | 825 | 8 |
| 12 | Jamie Bates George | Snap On | 732 | 5 |
| 12 | Tori Anderson | Shadow | 258 | 3 |
| 12 | Jamie Bates George | Oh My | 678 | 3 |
| 12 | Meghan Hemming | Last Book | 244 | 2 |
| 12 | Peter Anderson | K^2 Comet | 255 | 2 |
| 12 | Alexis Brown | Hoffend W. | 737 | 2 |
| 12 | April McGraph | Bet-I-Can | 212 | 2 |
| 12 | Andera Boon | Party Finale | 48 | 2 |
| 12 | Christine Ruh | Mick O' Angelo | 10 | 2 |
| 12 | Abby Thorpe | Mr O'Reilly | 220 | 2 |
| 12 | Bill Stetz | Rocketman | 243 | 1 |
| 12 | Cara Murray | Fine Harmony | 55 | 1 |
| 12 | | | | 0 |
| 12 | Special Jumper | | | 0 |
| 13 | Shelly Kearney | Devil Horns | 769 | 96 |
| 13 | Meghan Fuller | Windullah | 235 | 44 |
| 13 | Bridget Rachwal | Winter Rock | 225 | 31 |
| 13 | Abby Thorpe | Mr O'Reilly | 220 | 31 |
| 13 | Taylor Fyvie | Aint No Rust On Me | 763 | 25 |
| 13 | Emmy Hammond/Robyn Low | Quantum Leap | 658 | 13 |
| 13 | Dana Pauly | Chuck | 265 | 11 |
| 13 | Jenna Roberts | Second Chance | 234 | 11 |
| 13 | Jenn Levi | The Whole Shabang | 767 | 9 |
| 13 | Jamie George | Light Touch | 21 | 8 |
| 13 | Jamie George | Oh My | 51 | 3 |
| 13 | Miranda Mazzanello | Wisher | 241 | 2 |
| 13 | Meghan Fleming | Last Book | 796 | 2 |
| 13 | Noreen Laks | Cavanaugh Classic | 825 | 1 |
| | | | | |
| | High Medal | | | |
| 10high | Bridget Rachwal | Winter Rock | 729 | 34 |
| 10high | Meghan Fuller | Windullah | 730 | 17 |
| 10 High | Jackie Boyczuk | Luther | 27 | 10 |
| 10high | Christine Ruh | Mick O'Angelo | 10 | 10 |
| 10high | Ashley Glica | Silverado | 724 | 10 |
| 10high | Jenna Roberts | Second Chance | 727 | 8 |
| 10 high | Dana Pauly | Charles in Charge | 221 | 0 |
| | | | | |
| | Low Medal | | | 0 |
| 10 low | Bridget Rockwell | Winter Rock | 276 | 19 |
| 10low | Lauren Rotella | Chunky Monkey | 725 | 14 |
| 10low | Meghan Fuller | Sonny's Gray Ghost | 731 | 14 |
| 10 low | Dawn Karcher | Gus Because | 693 | 13 |
| 10low | Carolyn Costa | Last Enchantment | 859 | 12 |
| 10low | Anna Garvey | Brigadoon | 204 | 11 |
| 10low | Jenna Roberts | Mr Big | 726 | 10 |
| 10low | Kathleen Kozlowski | Audi Calypso | 9 | 10 |
| 10low | Jackie Boyczuk | Luther | 54 | 10 |
| 10low | Kaduk Sherpa | Too Good To be True | 246 | 8 |
| 10low | Amy Fair | Tiny | 232 | 7 |
| 10low | Christina Szalinski | Sterling | 253 | 7 |
| 10low | Laura Avino | The Wiz Kid | 691 | 5 |
| 10low | Hannah Cimperman | Here Comes Trouble | 246 | 5 |
| 10low | Ashley Glica | Kid Shaleen | 235 | 3 |
| 10low | Meghan Flemmens | Last Book | 244 | 2 |
| 10low | Kelly Waples | Washed Out Color | 53 | 2 |
| 10low | Victora Logel | Whoop Dee Do | 200 | 1 |