Longacres Land Purchase Opportunities




The Longacres Equestrian Camp was established in 1939. 2015 marked the final year of operation. It was owned and directed by the same family for the entire 77 years of existence beginning with Grandmother Jacqueline Kranz & Great Aunt "Shortie" to the present day Mr. & Mrs. Tom Kranz. The camp was named after Great Grandfather George Longaker. Throughout its history, Longacres taught the English hunter/jumper discipline to students, which included some 2nd and 3rd generations. The residential show training program brought students from around the country and some international. As of 2016, portions of the former campgrounds will be offered for sale. (If interested, click here to look at the old camp's website.)


The Longacres land now consists of approximately 95 acres. The Kranz family plans to sell about 65 acres. The 30 acres retained by the Kranz family is in the center with an old growth forest, extensive trail system, streams, and Cazenovia Creek frontage including a canyon ridge view and waterfalls. The other parcels (for sale) surround this core system and also offer trails, rolling hills, fields, ravines, streams, a fishing pond and Cazenovia Creek frontage. It is a rare piece of property carefully developed over 77 years to capitalize on the incredible terrain. The land is on a scenic byway, just around the corner from the Mill Rd. Overlook (60 acres of protected land), 5 minutes from the village of East Aurora and it's coveted school system, and minutes away from multiple expressways leading you within a half hour to bigger shopping areas and about a 2 hour drive to Toronto. The land is a real hidden gem in the WNY area. Private and beautiful, but close to amenities.

Video Link to a 20 minute "Walk in the Woods" of Longacres Annex trails.

Video Link to "Longacres Waterways", a 6 minute look at the six streams through the property and the Cazenovia Creek that flows for a half mile past one side of the properties.



*Parcels available in varying size ideal for home sites, family estates, or private/commercial horse farms.





We are more than happy to schedule a tour of the parcels and our trail systems.





For more information, contact: Tom & Meghan Kranz; Owners (716)380-6088, (716)652-9495 camplongacres@yahoo.com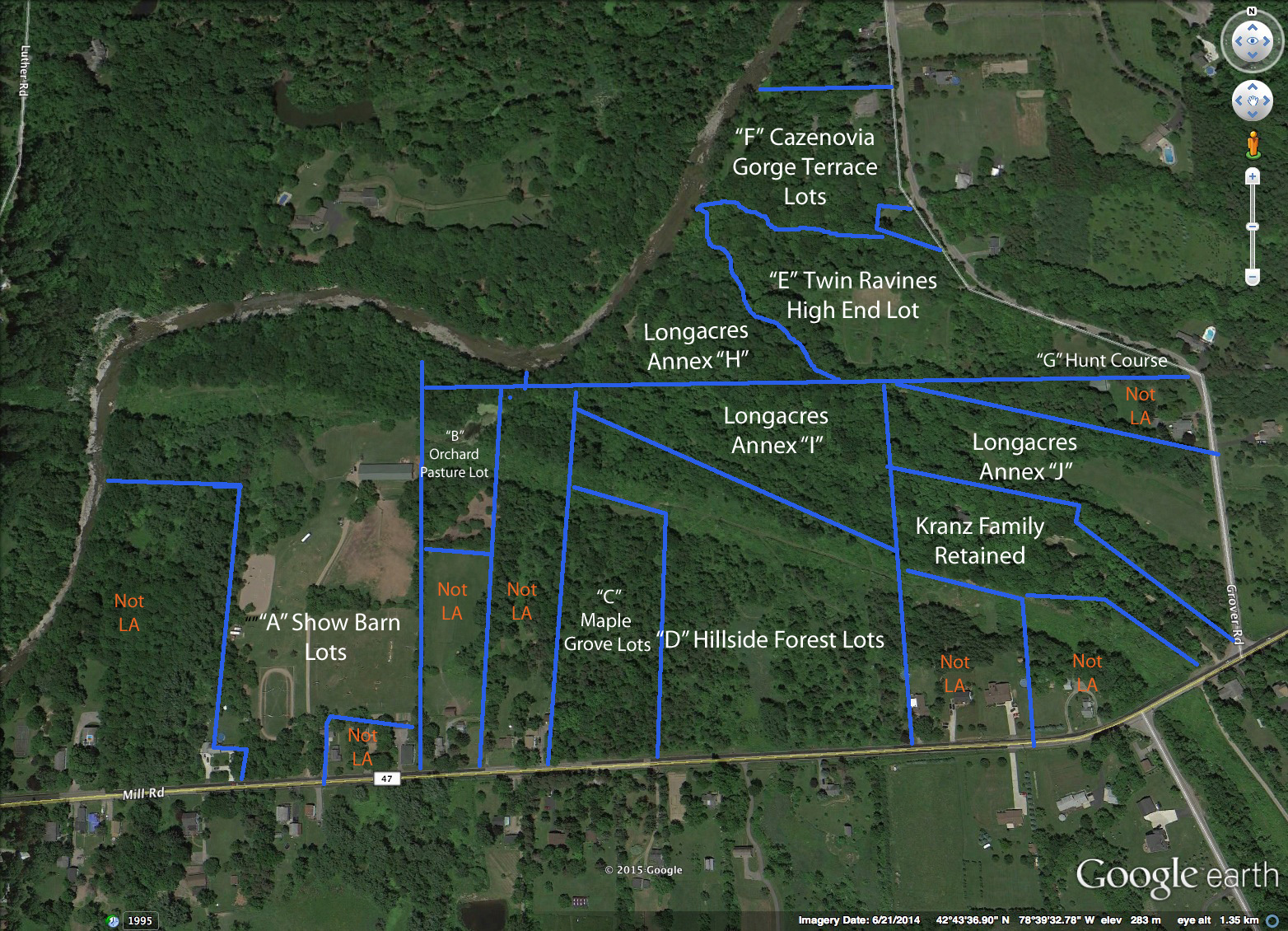 Lots A – G are for sale




Not LA

= not owned by Longacres or the Kranz Famil

y



Click

HERE

for larger version of the above map





Useful tools for reference points as you read the individual lot descriptions:




Scroll down to the bottom of this page for another Lot Line Google Earth view map with all the waterways marked accordingly through the parcels.
Also scroll down to see a detailed overview map of Longacres with it's 95 acres. Trail systems, waterways, buildings, & land structure marked accordingly.

- - - - - - - - - - - - - - - - - - - - - - - - - - - - - - - - - - - - - - - - - - - - - - - - - - - - - - - - - - - - - - - - - -



"A" Show Barn Lots

– 29.1 acres of the Longacres Show Barn and Show fields, known to all western NY equestrians! Turn Key ready commercial or private horse show stable with all necessary horse jumps and equipment.

*Also a beautiful home building site/gentleman's farm with private long driveway and a lot of Cazenovia Creek frontage.
$350,000 including Orchard Lot "B". Future subdivision of this parcel is possible if the full lot does not sell in 2016.
(**Looking for a farm with an existing house? Soon to be on the market: a house & garage/workshop IMMEDIATELY next door to this property. This parcel (curently owned by another party) backs up to the "A" lot listed here. Charming home with a barn style look and lanscaping.**)

SOLD




Click here for Pictures & Description


*Cazenovia Creek frontage, Trails, Streams



"B" Orchard Lot

– 2.9 acres Orchard pasture land. Trail overlooking Cazenovia Creek. Fishing pond with a dock. Separate lot but included in sale of "A" lot.


Click here for Pictures & Description

SOLD


*Fishing Pond & Trails




"C" Maple Grove Lots

Total in current survey - 6.0 acres, will sell about 5.5 acres back to the center of the powerline. Will divide into two level wooded building lots. Perfect location for building a home for your family with plenty of room for your pets and your own backyard woods. Densely mixed forest land. Part of the former horse trail system. $115,000 for approximate 5.5 acres; $75,000 each for each half of lot; "C1 Western" & "C2 Eastern". Correction- there is an error on our maps; Maple Grove lot(s) WILL abut "Longacres Annex I"



Click here for Pictures & Description


*Trails




"D" Hillside Forest Lots

– Total in current survey 14.9 acres; we will be selling about 10.5 acres of this back to the center of the powerline for $170,000. Will also subdivide this parcel of gently hilled diverse forest land for building lots, etc. Ideal for a family horse farm. Part of the former horse trail system. $85,000 for the "D1 Western" 5 acres or $100,000 for the "D2 Eastern" 5.5 acres. Acreage sizes are approximate - pending new survey.


Click here for Pictures & Description

SOLD - BOTH LOTS


*Trails

, Seasonal Stream






"E" Twin Ravine High End Lot

– Approximately 8-9 acres pending survey. Not priced at this time; a beautiful lot that will bring a premium price. Surrounded by Cave creek to the east, Perch creek to the west and the Cazenovia creek to the south. Gambrel style small barn, gentle rolling hill, meadows, orchard trees, & trail system. Ideal set up for gardens and a small family farm. This land is part of the true origins of Longacres. Open to offers, but this will likely be the last parcel we sell. A secluded, one of a kind home site.


Click here for Pictures & Description


*Cazenovia Creek frontage, Trails, Streams
*OFF MARKET for an indefinite period of time. The Kranz Family will now be retaining this parcel along with the other 30 acres of primarily undeveloped land for a total of 40 acres to abut the other for sale lots!







"F" Cazenovia Gorge Terrace Lots

– Pending survey, about 8 acres including two occupied year round rental cottages, old camp Longacres structures, and well maintained artists' studio/lodge/work shop that was the Longacres main lodge. Beautiful family built stone patio looking toward the Cazenovia Creek. Part of the original campgrounds. Plenty of level, grassy land on Grover Rd. available for a newly constructed home site with incredible views. There are also some more imaginitive building sites to capitalize on the views. Cascading terrace structured forest land bordered by Cave & Cazenovia Creeks. Ideal set up for a multi family situation, family retreat location, or a private estate. $330,000 for all in this section. If divided in two parcels: $180,000 "Cave" side with small older house, rustic summer cabin, and premium home building site among an old growth grove – approx. 4+ acres OR $165,000 "Lodge" side with very small cottage (tear down or major renovations), large lodge building, other small buildings, and new home building site options – approx. 3 + acres. Each with Cazenovia Creek frontage. Other possible subdivides will be considered in the future if the full parcel does not sell.

*FOR THE FOLLOWING MONTH, WE WILL BE CONSIDERING DIFFERENT PRICE/ACREAGE OPTIONS. WE WILL UPDATE THIS SITE & OUR ZILLOW ADS WHEN WE HAVE REACHED OUR DECISION.*




Click here for Pictures & Description


*Cazenovia Creek frontage, Trails, Streams




"G" Hunt Course Lot

– Pending survey, about .7 acres triangular building lot on Grover Road. Level, good ground ready to build on now without any land clearing. Perfect set up for a home, garden, and a backyard for your pets. Former horse jumping meadow with natural log & stones. Bordered primarily by a forest. Also part of the original campgrounds. $65,000




Click here for Pictures & Description

SALE PENDING







"H", "I", and "J" Annex Lots

– Approximately 24 acres

not for sale

. These will remain part of the Longacres/Kranz family farm indefinitely. The stable presence of these undeveloped adjacent lots is an asset to all other adjacent land owners. Original campgrounds.


Click here for Pictures & Description


*Cazenovia Creek frontage, Trails, Streams






Kranz Family Retained

- 6 acre lot homesite at corner of Grover and Mill,

not for sale

– see above Annex lots.


Click here for Pictures & Description


*Trails, Streams

Lot Line Google Earth view map with all the waterways marked accordingly through the parcels:
(Hand drawn waterways on map - might not be exactly correct but close!)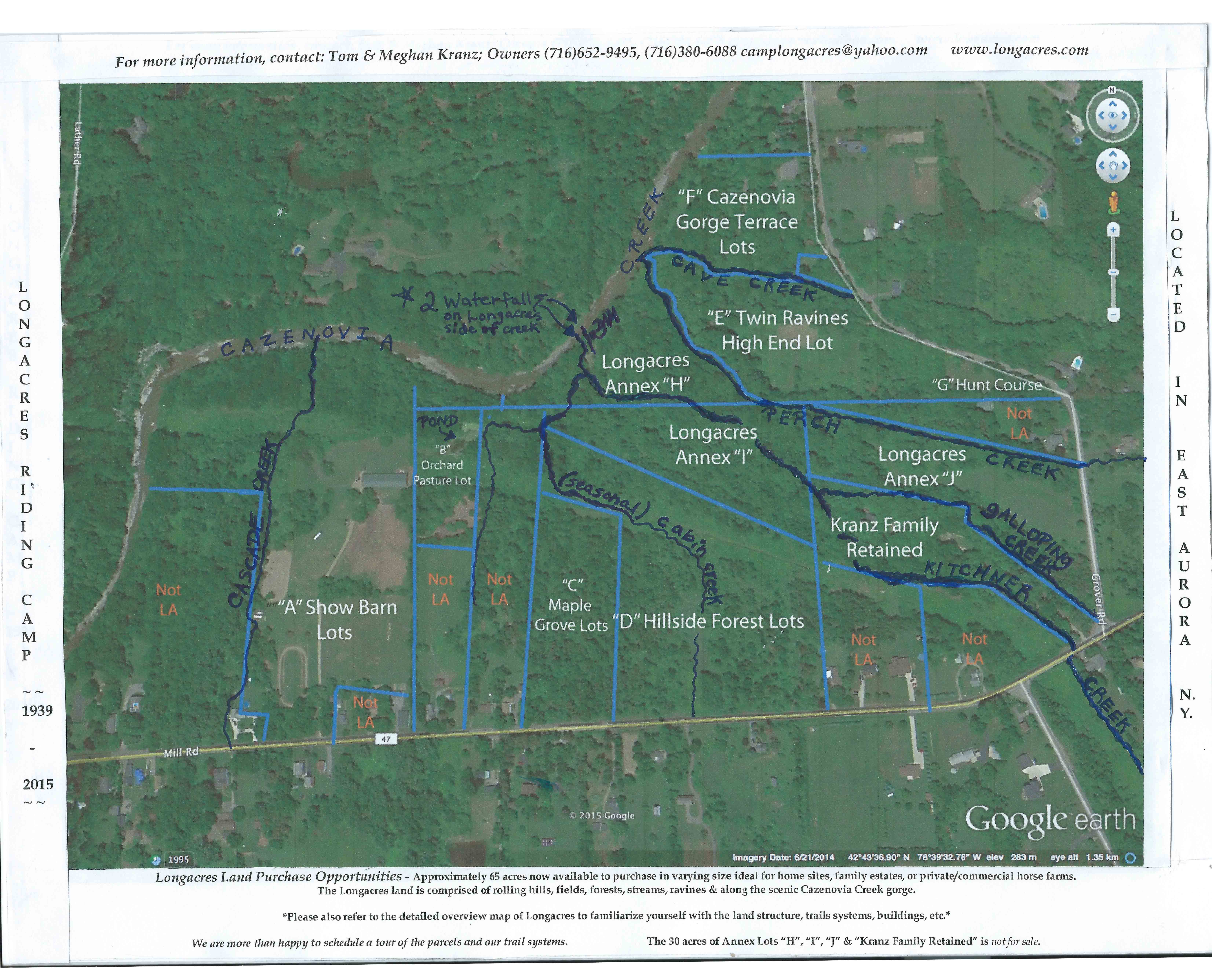 Detailed Overview Map of Longacres with it's 95 acres. Trail systems, waterways, buildings, & land structure marked accordingly:
(Hand drawn - might not be exactly to scale, etc.)