Longacres Riding Camp Going out of Business Horse Sale - All are Sold - Where did They End Up?

Contact info: email: camplongacres@yahoo.com
716-652-9495 or Meghan's cell: 716-380-6088

On August 29th of this year, the Longacres Riding Camp (the "Where else can you ride five hours a day?" camp) closed for good. We owned 15 amazing horses, most shown regularly and successfully. A testament to these horses and to Meghan's salesmanship is that all the horses were sold to great homes in five and a half weeks.

Where did they go?


NOTE: Some of the below descriptions were done by our kids, and there may be minor mistakes on size, etc.


Horatio (Against All Odds)
TB gelding, age 16

Fast and careful in the jumper ring, with knees tucked high. This horse has won nearly every important jumper event in western NY during his show career. He is a solid 3'6" to 4' horse. He is that rare horse that can win a high speed class, but jump X-rails with a little rider safely.


Horatio "Against All Odds" is 16 year old Thoroughbred standing at approximately 15.3 to 16h.
On the ground Horatio is a gentle warmhearted horse. He stands very well in his stall to be brushed. On the flat Horatio is very willing, and listens to his riders. He is a big jumper, and is very special to Longacres due to the fact that he was trained to jump here. He will give it his all, and take care of you over the jump.
An amazing animal.



Horatio was sold to Katherine, a four year Longacres student, who showed Horatio extensively in her last two seasons with us. She won the Longacres High Derby on him in July this year, and at her very first show as Horatio's new owner, New York State Fair, she again won a jumper class on this amazing horse. Horatio has a fine home! Katherine lives in Central New York north of Syracuse.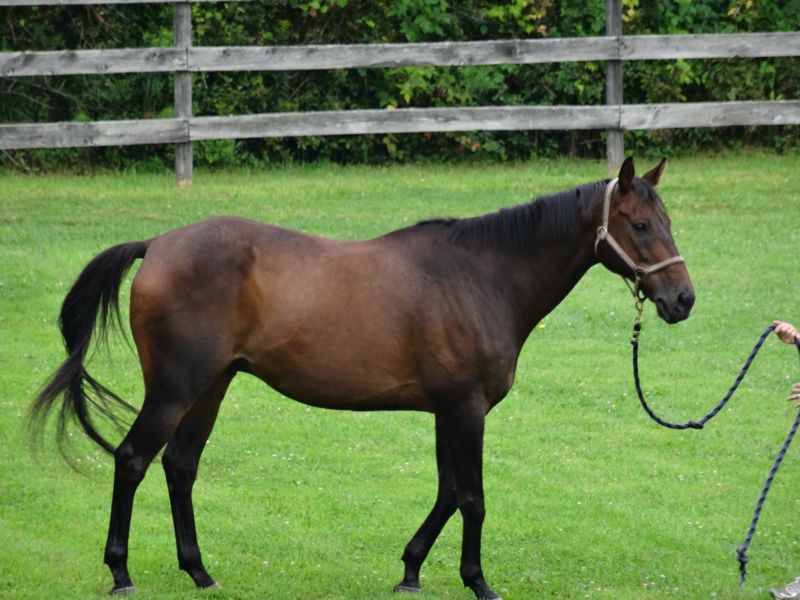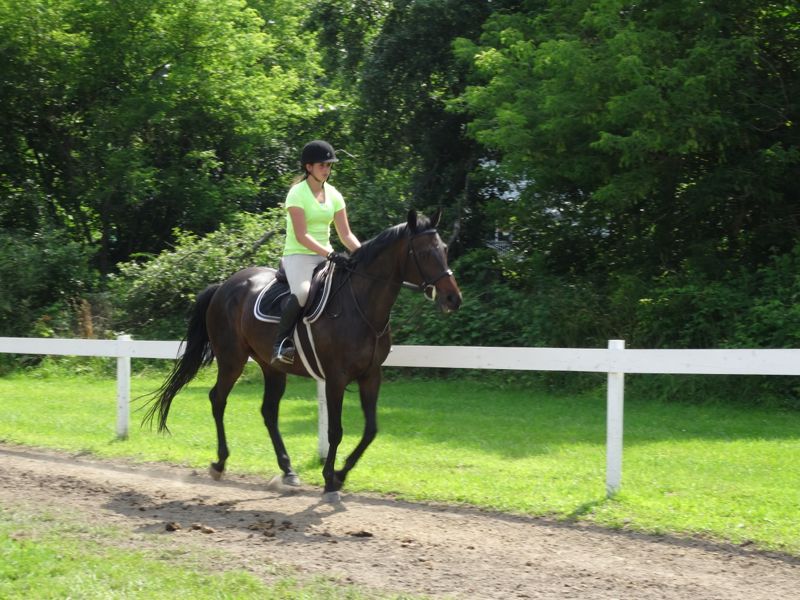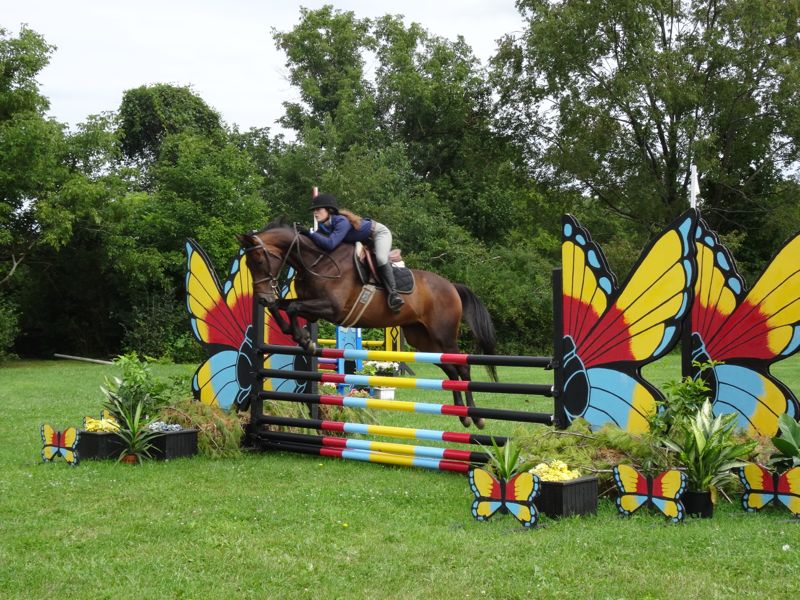 Jazz (All That Jazz)
TB/Clydesdale cross, age 11

Classy mover and solid jumper. Excellent, safe lesson horse, for any level of rider. Honest jumper. Perhaps a great field hunter?


Jazz "All that Jazz" is an 11 year old American Warmblood (Clydsdale/thoroughbred) standing at approximately 16.3hh. On the ground she is gentle with her handler, but can get a little strong so she is often walked with a lead rope with a chain. On the flat Jazz is a very smooth ride, which makes her very popular in the equitation classes at shows. She is a very experienced big jumper, and one of the most powerful horses at Longacres, but she always takes care of her rider. Safe jumper – safe! (Video Link - Jazz with Anderson on 7-30-15)

Jazz was purchased by four time Longacres camper, Paige H. Paige lives in Dallas, Texas, and Jazz traveled across a big patch of the country to be with a rider who knows her well and loves her. Paige worked hard on her riding to become the right rider for Jazz, and we trusted Paige to show this horse multiple times during the 2015 season. You have a great horse, Paige!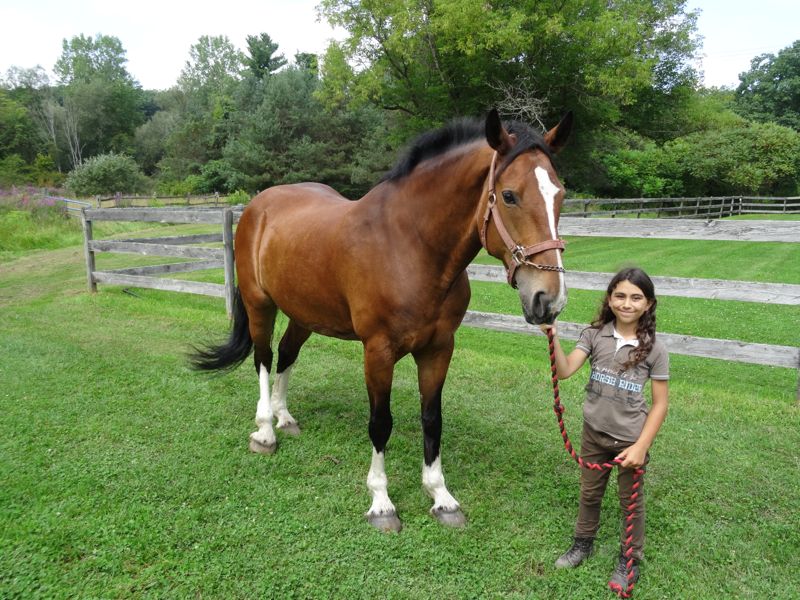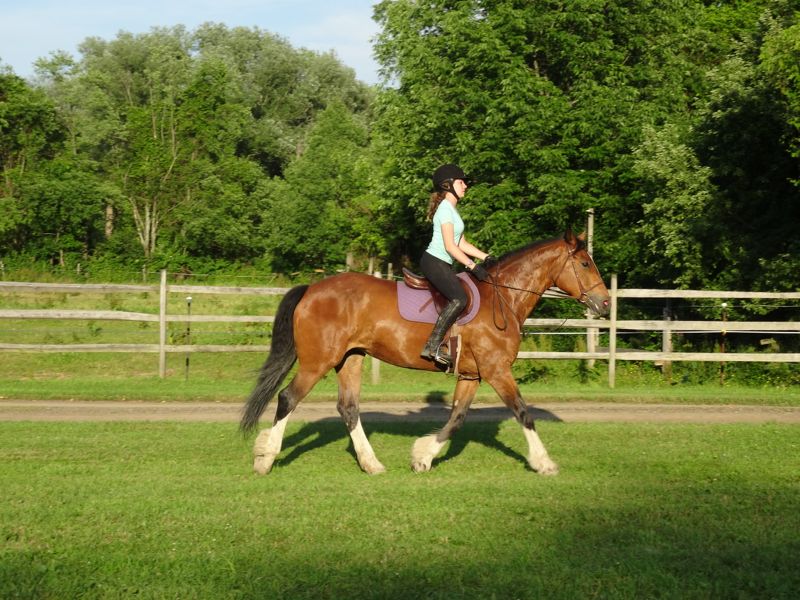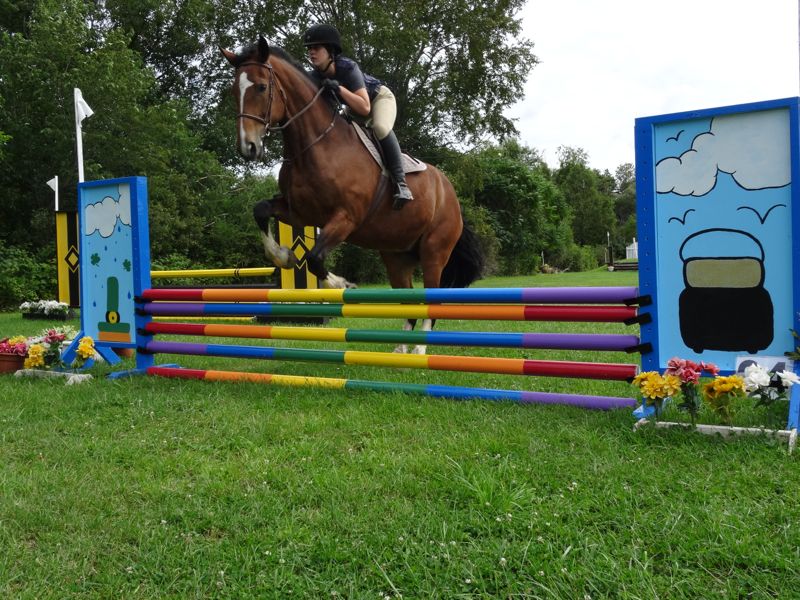 Merlin
TB/Arab cross age 17
Everyone is western New York knows Merlin from the Summer Series show circuit. Many are already interested in buying this honest and gentle horse.

Merlin "One in a Million" and "Tickled Pink" is a 17 year old Arabian/thoroughbred standing at about 14.2hh. Merlin is one of the most popular camp horses by far. He even has his own fan club. On the ground, Merlin is a very sweet and careful horse. Because he is mainly a hunter horse, he does not get too speedy while you are riding him, but with the right rider he can really get going and is able to compete in jumpers. Merlin is very safe and very willing over jumps making him a good fit for both beginner riders, and advanced riders. Merlin Video Link He is the perfect pony! Perfect lesson horse trained from scratch at Longacres. (



Merlin has perhaps the best retirement home of any Longacres horse. He was bought by the Winant family who live just across the street from Longacres and down a few houses. Sue Winant has sponsored the Pony Hunter division at Summer Series shows for something like 20 years and is a well regarded area horse woman. Merlin will be ridden by a grand daughter amoung others, and will often ride on the Longacres trails that Merlin has trod for so many years. Great, great home with a family that has known Merlin nearly all his life.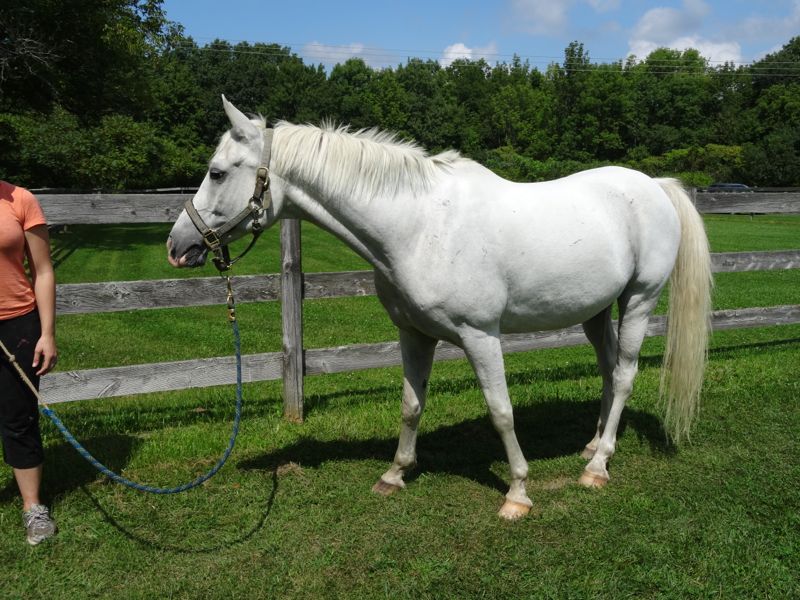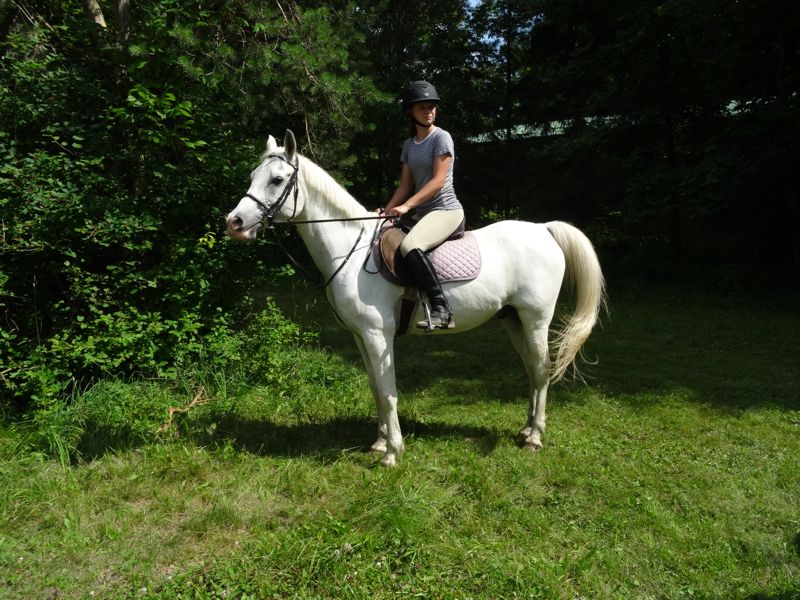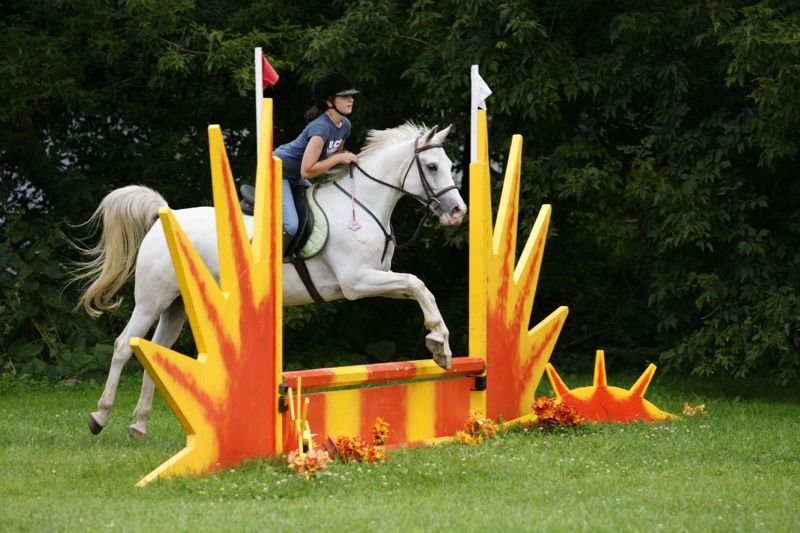 Tux (Tuxedo Junction)
Arab Sport cross Age 10

At the prime of his life, Tux has won the Longacres jumper Derby, but is a gentle beginner's horse as well. Perfect school horse or show horse for young rider.

Tux "Tuxedo Junction" is a 10 year old pony standing at about 14.3h. On the ground Tux is a very sweet, and easy to tack up in either his stall, or on crossties. While on the flat, Tux has extremely smooth gaits, and is very responsive to his rider. In addition, he is very safe on the trail. Tux is a very simple horse while jumping, he is very willing but sometimes needs a little more leg kept on than usual. He can easily "make the horse strides" on a jump course.

Kellie Hunn is a name known to anyone who has followed Longacres during the past dozen years. Kelly attended Longacres for about ten years and is like family to us at Longacres. We have often visited Kellie and her family in Texas, where Tux and Ebony have spent the past seven or eight winters on winter free lease. Kellie's family has purchased both Ebony and Tux so these great ponies will spend the rest of their careers on the same farm in Texas, the Hunn Ranch, that they already know so well! Tux has NEVER been winter leased to anyone but the Hunn's the entire time we have owned him.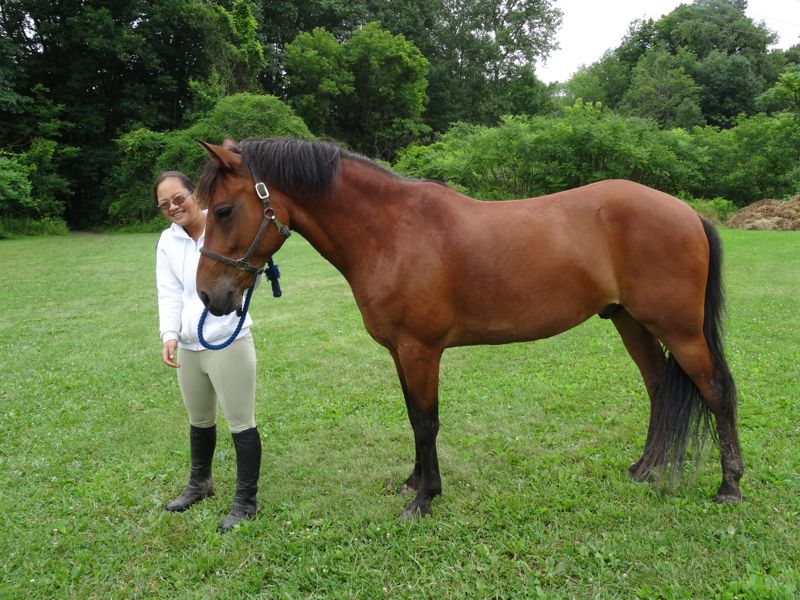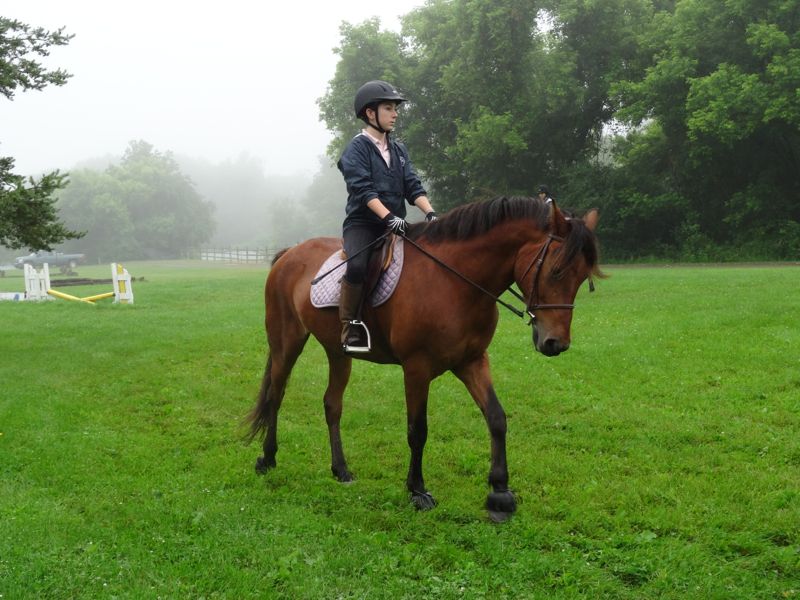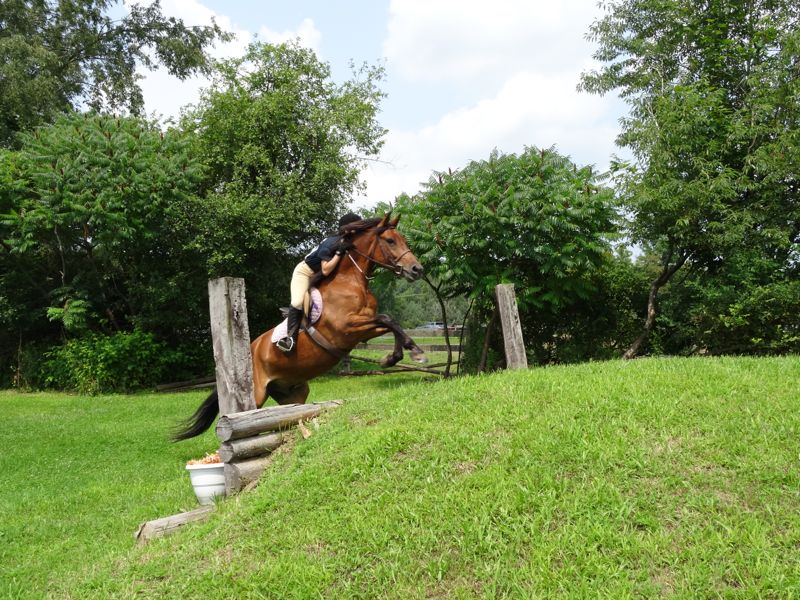 Ladd (Aladdin's Delight)
Arab sport cross, age 8

Ladd is an honest jumper with knees tucked up to his chin. Shown as hunter, eq pony, or in the jumper ring. Well broke, honest, a joy to handle.

Ladd "Aladdin's Delight" is an 8 year old Paint Pony standing at about 12.3hh. All around Ladd is a very loveable pony with a big heart. On the ground, he is very sweet and gentle to whoever is handling him. He stands nicely in both his stall and on crossties, to be groomed and tacked up. On the flat Ladd can be careful with a beginner, or fast with an experienced rider - very, very versatile! Over jumps he is very willing, and he can be ridden in both the hunter, and jumpers divisions. An amazing pony - will go for a high price.

Ladd has earned a reputation as a great show pony in just a few seasons at Longacres. It is fitting that this relative newcomer to the Longacres show string is going to be with one of the families most experienced of all in Longacres history. Katie and Caroline are both third generation Longacres riders. Their mother, Anne, two aunts, and two of their grand parents all rode at Longacres in the past! Ladd is travelling to Las Vegas, NV for the next chapter in his career. The family has the longest journey through time of any in Longacres history, and Ladd will journey the farthest of any of our horses to his retirement home!

recent Ladd video - beginner
recent Ladd video, more advanced rider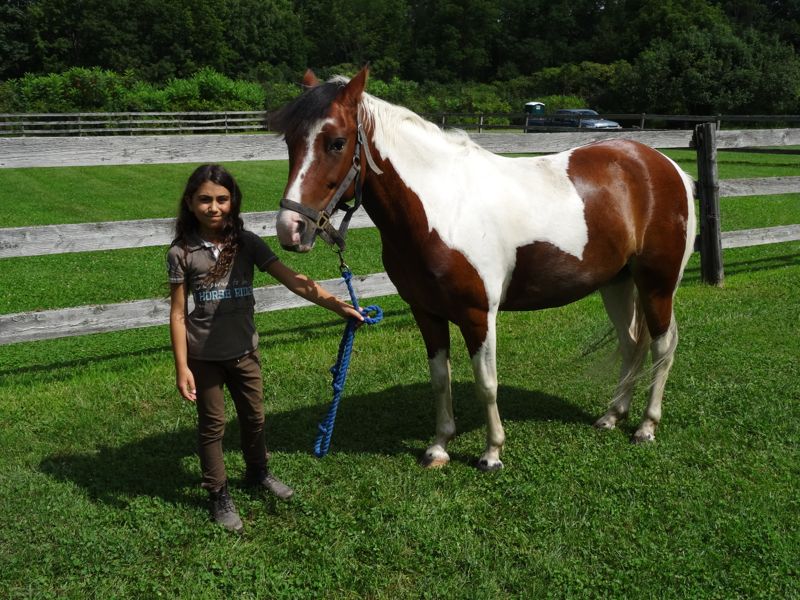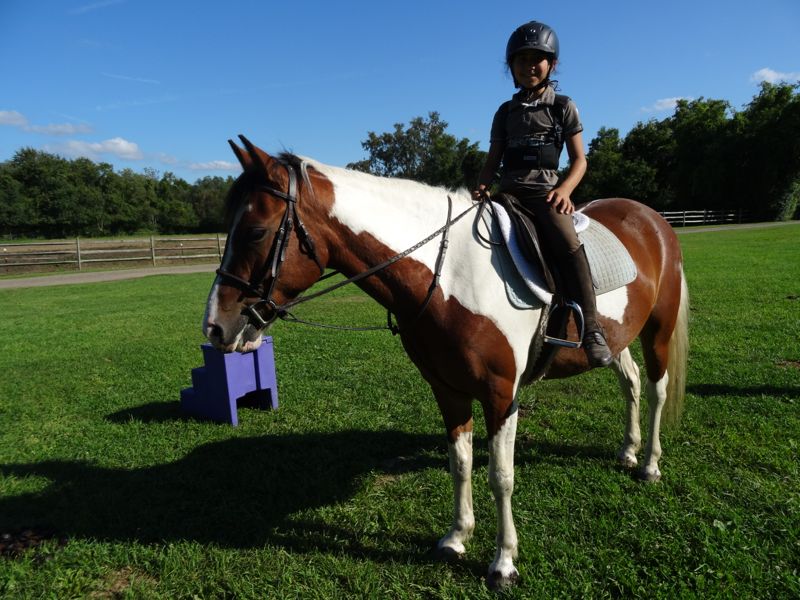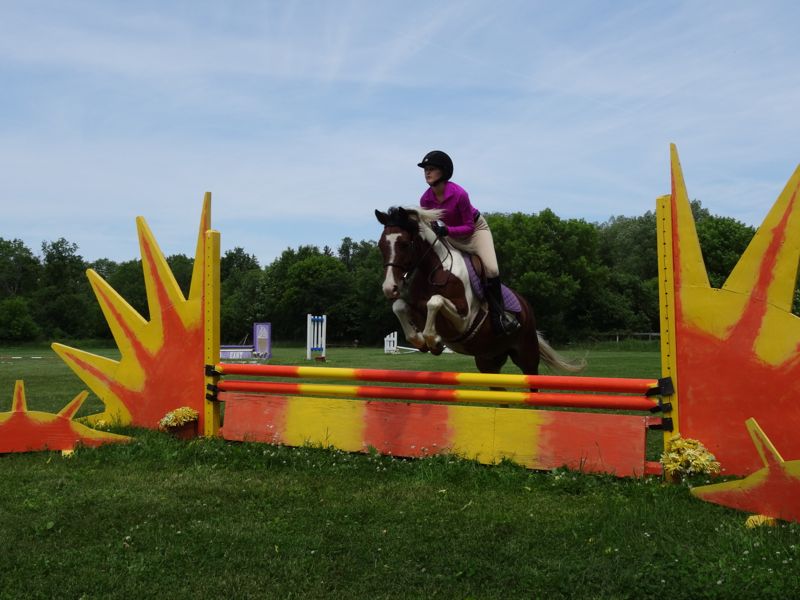 (above - how about those knees?)


Star "Wishful Thinking" is an 18 year old Mustang/Paint pony standing at about 14.2hh. On the ground Star is a very sweet horse and can be tacked up while on crossties, or in her stall. On the Flat Star can be lazy, so she needs her rider to get after her to keep her going. Star is willing to jump but needs to be kept at a working steady pace while approaching a jump so she does decide to just step over it. Star is suitable for both beginner riders and advanced riders. Very safe – GREAT little kid's horse. Priced at $4000 – or best offer (

Star is one of those great, great safe lesson horses. You can put any rider on her, and she is safe and willing. Linda Fuller is one of the western New York professional trainers that we most respect. We have bought horses from Fullers. We have sold horses for them. Linda Fuller has judged Longacres horse shows and has taught as a guest teacher here. A great lady and fine horse woman. Star is now part of the string of horses at Fuller Stables. We could not be happier. (Little John is there too!)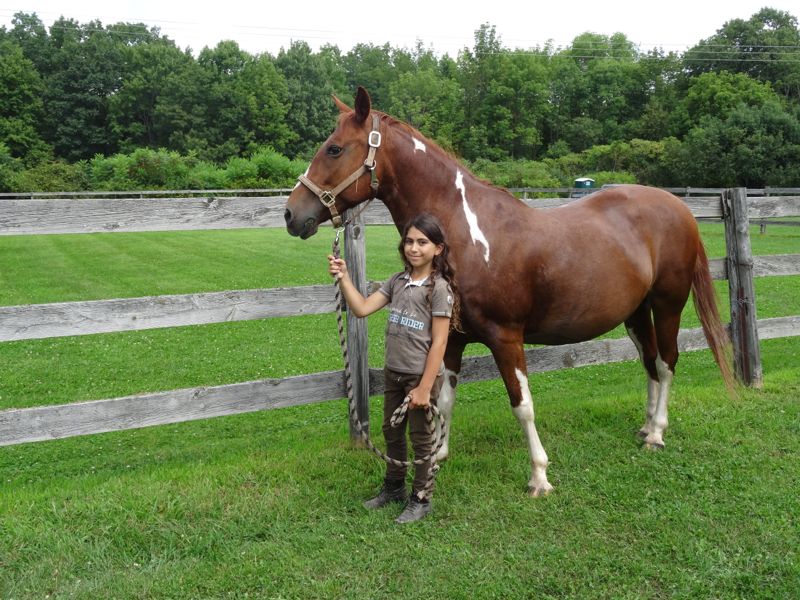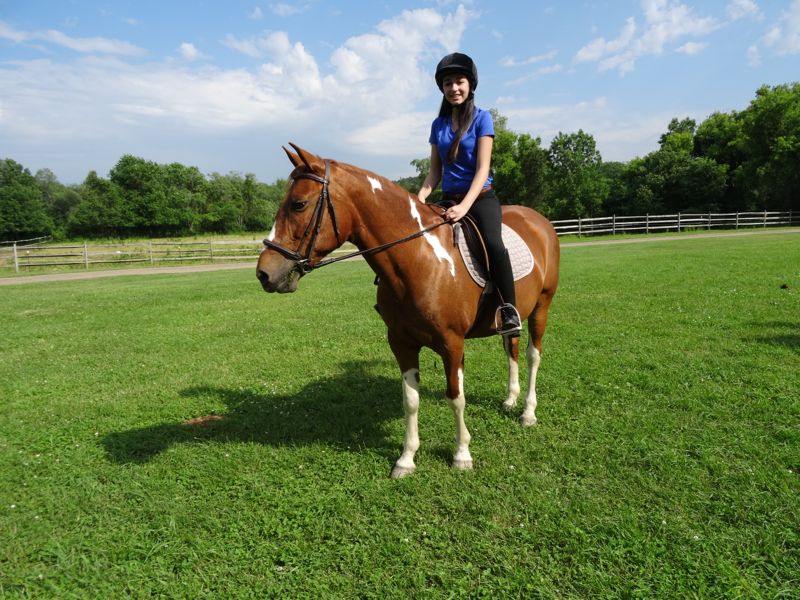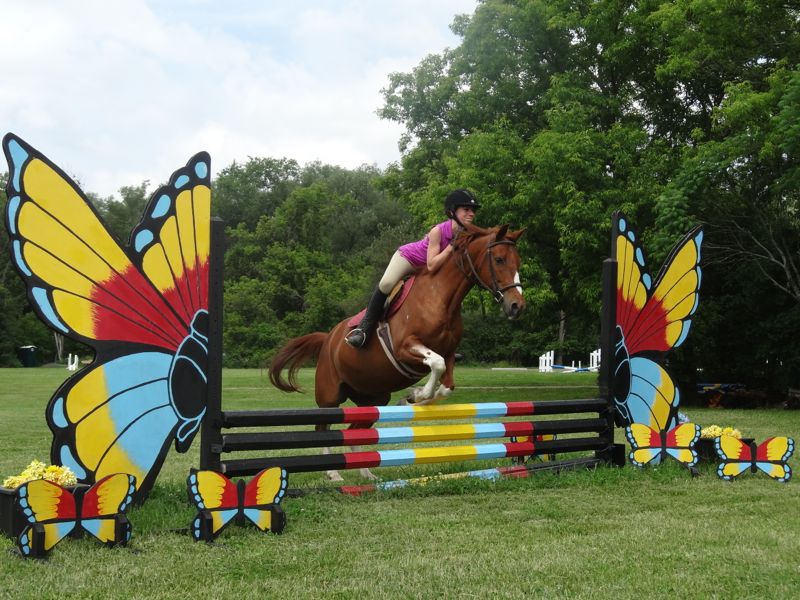 Samual "Lean on Me" is a 15.2hh 14 year old Quarter horse. All throughout camp he is known as the teddy bear of the barn. Sam is very sweet and gentle on the ground, and stands very quietly on the crossties. On the flat he is a bit bouncy and downhill due to his confirmation, but becomes much easier to ride as you get used to him. For both jumping, and on the trail, Sam takes care of his rider, by doing his best to listen to your aids, and be as quiet under saddle as he can. Another great school horse!

Samuel was sold to the family in Central New York that leased him last winter. He is a good fit for them, and we are so glad that, like many of our horses, he went where he was already well known and cared for. Like Tux, Sam has gone only to this family for his winter homes. Sam is like a member of the family!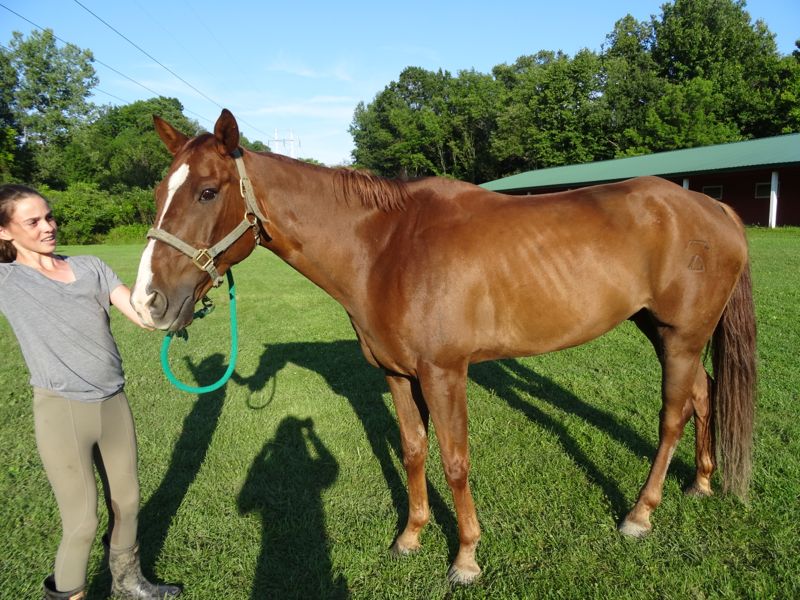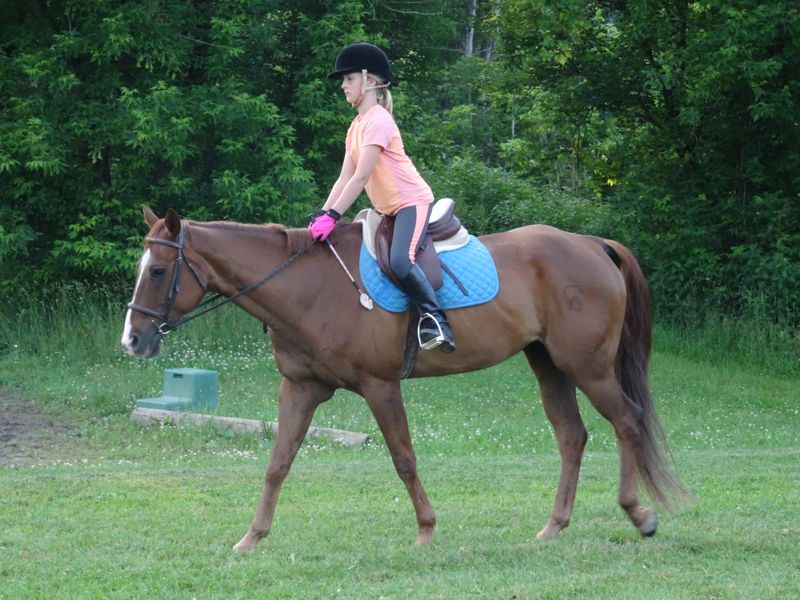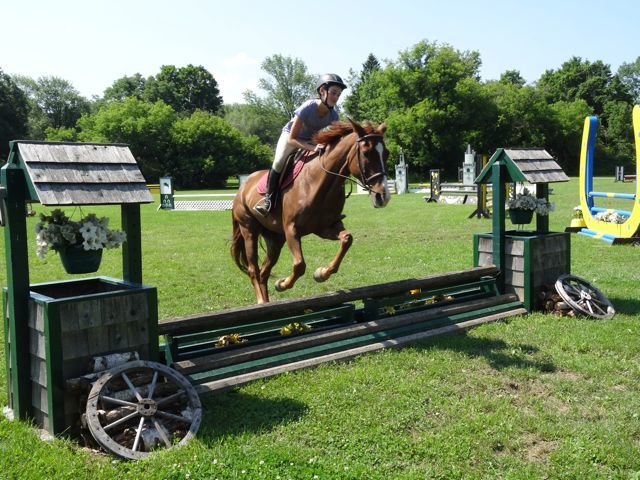 Ginger "Lasting Impression" is a 16 year old Quarter Horse standing at about 14.2hh. She is one of the three moody mares in the barn, meaning we have special rules at camp for her handling and tacking up, for safety. She often spends winter leases with kids with no problems, but at camp we are careful handling her. On the flat, Ginger has a very smooth canter that is comfortable and easy to sit too. She listens to aids but needs a constant reminder to keep her going. Ginger is very willing over jumps, but needs a steady pace to be held, and a big release from her rider. She has two speeds on a jump course; slow and cautious or can cut and slice in a jump off round in a jumper class with a good rider. Ginger Video Link

The single biggest buyer of Longacres horses, if you count their friends and acquaitnences, was our long time horse show official and helper at Longacres, Danielle. Danielle has been horse show secretary for Longacres for years. She also provides airport transportation for the camp, has helped Meghan with all sorts of things, and is a life long experienced horse woman. Danielle has purchased Ginger and Boo, who are now at a stable in nearby Pennsylvania. Danielle says that Ginger is totally relaxed in her new home and far less nervous than she sometimes was at Longacres. Ginger is going to be Danielle's family horse and Boo is her "plaything". Friends of Danielle also purchased Zanee and Brody!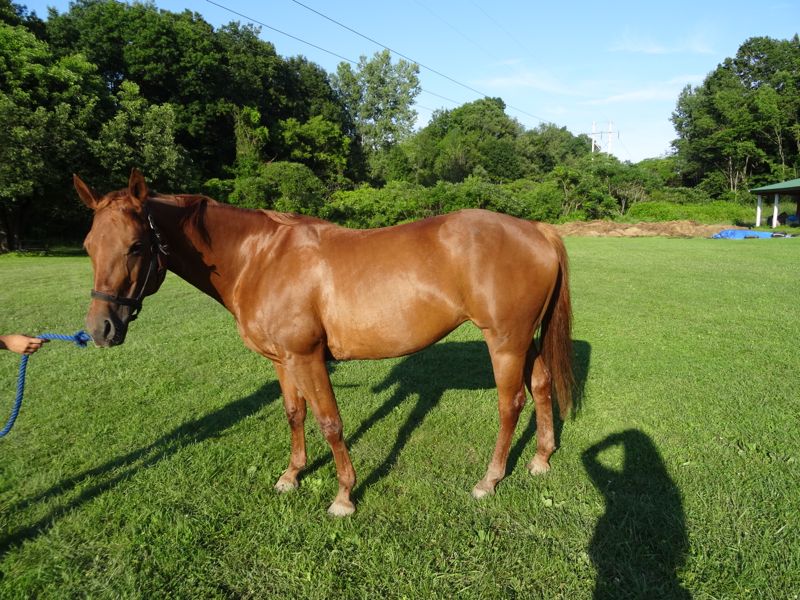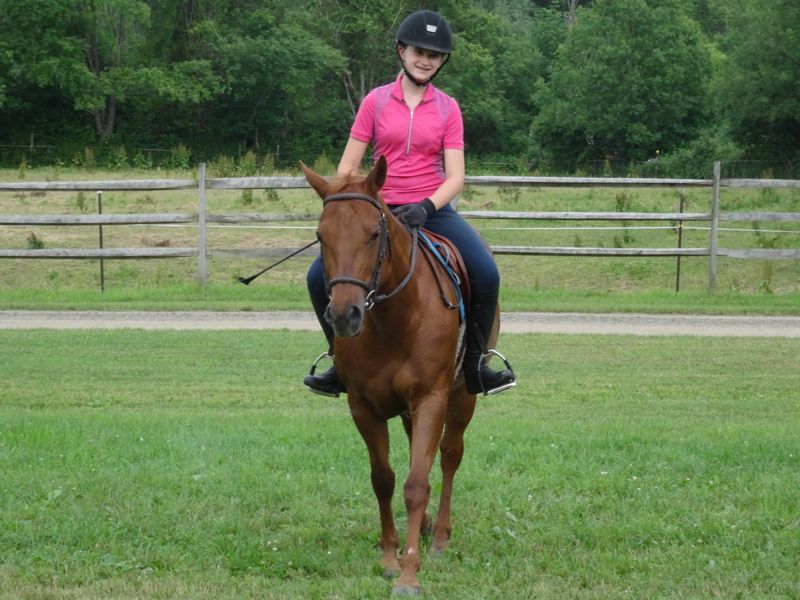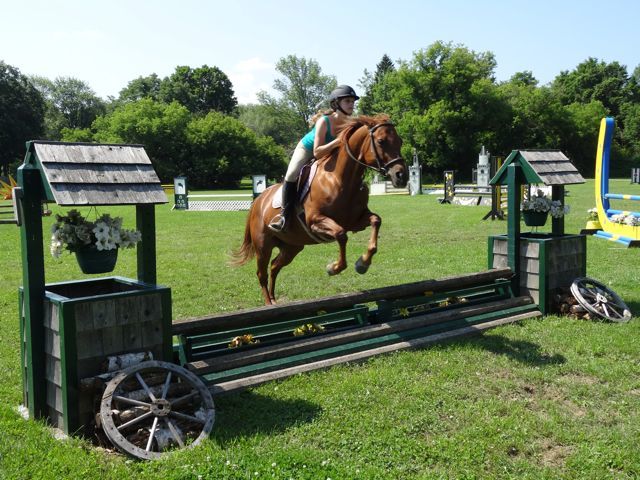 Ebony "Tsk Tsk" age – 17 14.2hh On the flat ebony has very distinct gaits, in which some like, but others do not - shorter strided. She is a great trail horse, and does very well in the fun Gymkhana's. Ebony is good at keeping a steady pace while headed toward a jump, but needs a confident rider who won't let her run out. She is very good at finding spots, and takes care of you over the jump. (

See the story about Tux for details - Ebony is with Kellie's family near Fort Worth, Texas. "The Hunn Ranch" is already like home for Ebony! She has been going there for years and the Hunn's have had "dibbs" on Ebony if she was ever retired - fitting she is there.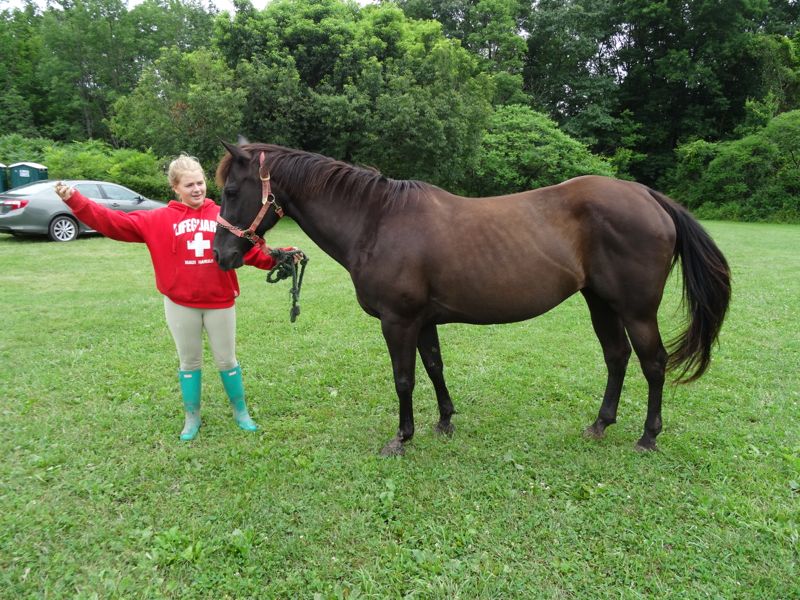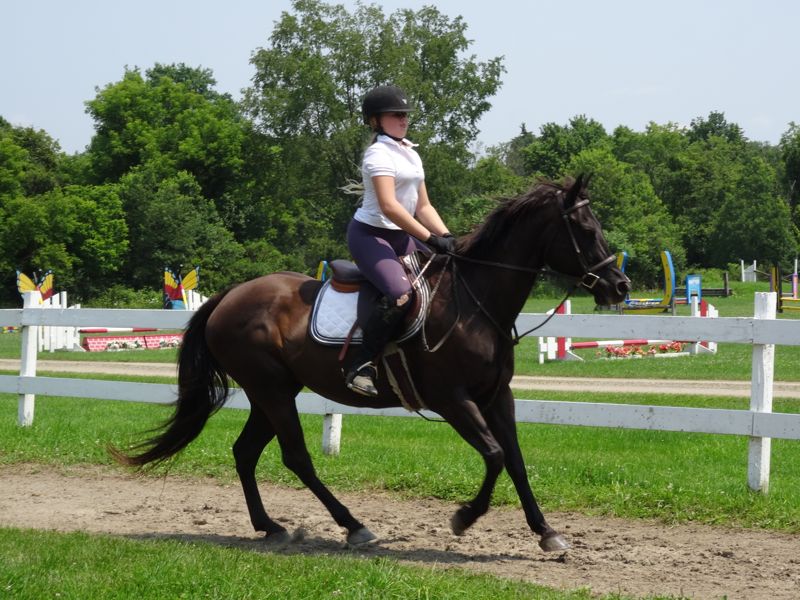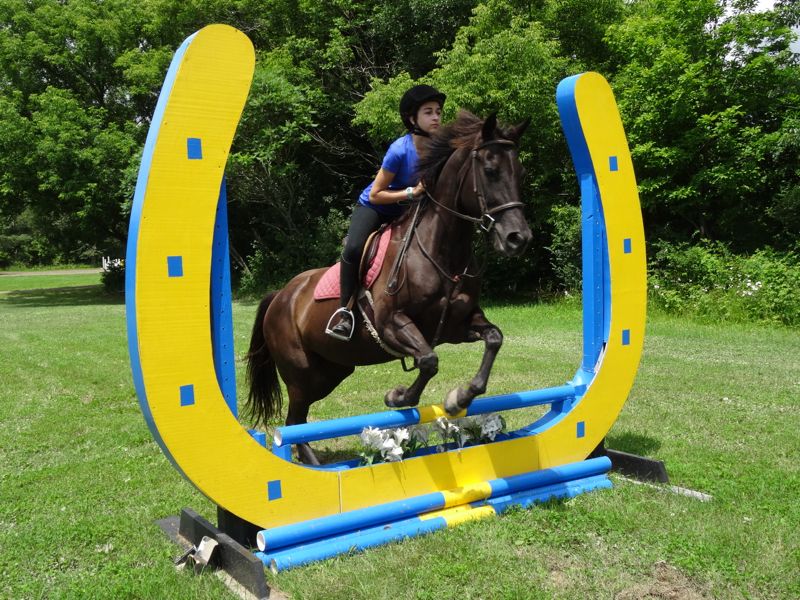 Libby "Twinkle Toes" is a 14 year old Morgan, standing at about 14.2 hh. On the ground Libby is very gentle, and can be tacked up in either her stall or the crossties. On the flat Libby needs a patient rider who will work hard on keeping her attention because she sometimes spooks while riding on the rail. When it comes to jumping, Libby is a hard worker and with the right rider, she can jump courses perfectly. She is often only shown in the hunter divisions. Sound as a rock; needs a confident rider. (


Libby is near Columbia, MD, with former Longacres student and staff member, Shelly. Shelly is best known for showing jumpers with her great horse, Jenna, AKA "Devil Horns" who she bought here at Longacres years ago. Shelly likes complicated horses, and the talented Libby fits her to a "T", we think!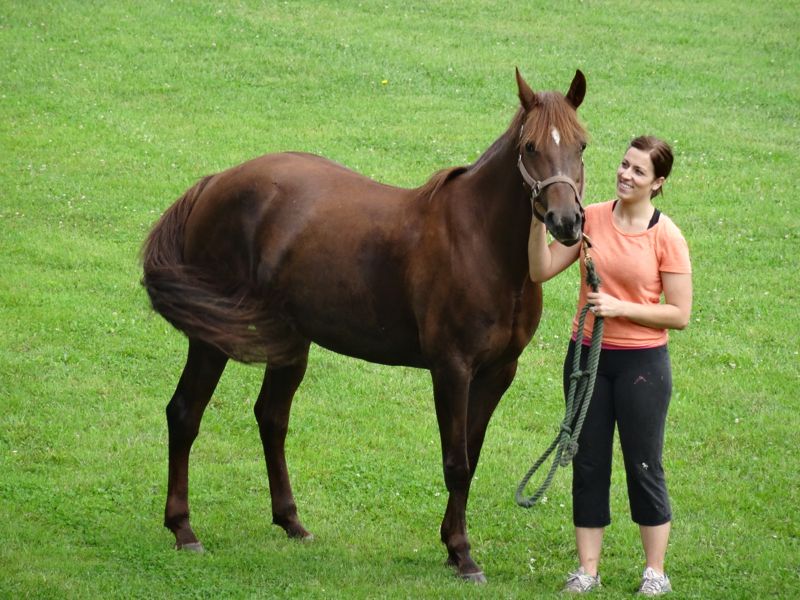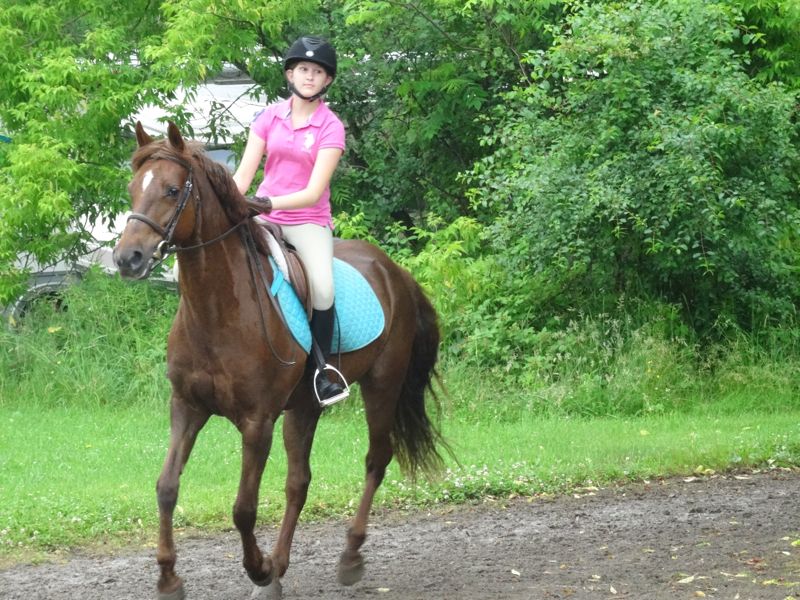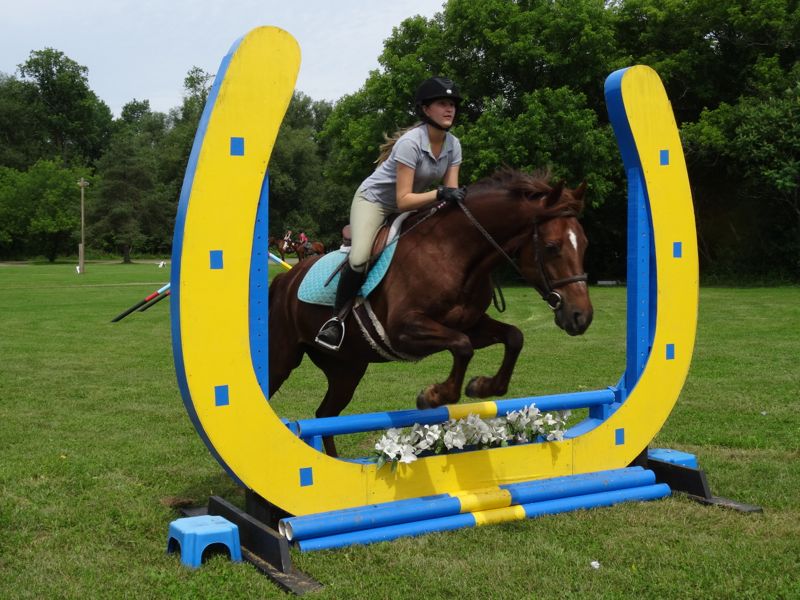 Brody "pushing the Limit" is an 18 year old Quarter Horse standing at approximately 15.2hh. On the ground Brody is a very calm horse, and can be tacked up in both his stall, or on crossties. On the flat he has the smoothest gates, and listens very well to aids. He is always willing to learn. While jumping, Brody needs a confident rider, and lots of leg to keep him straight and steady while approaching the jump. He is very versatile because he can be ridden for hunters, and he can turn on a dime, which makes him a great jumper horse. –

Brody was sold to friends of Danielle's, part of the package including Zanee, Ginger, Boo, and Brody that went to friends of Danielle. Brody will be living in Maryland next year. Brody's rider is a young girl who is a talented rider, but not planning on showing much - perfect for Brody!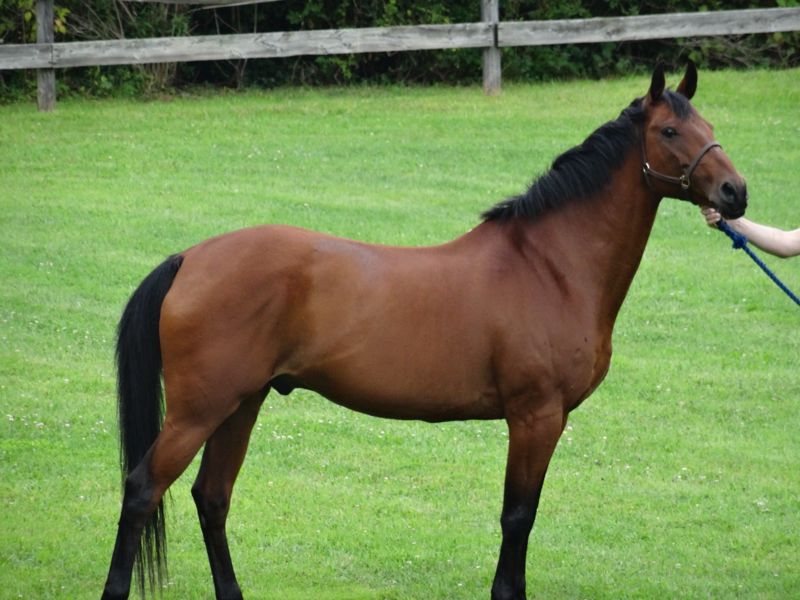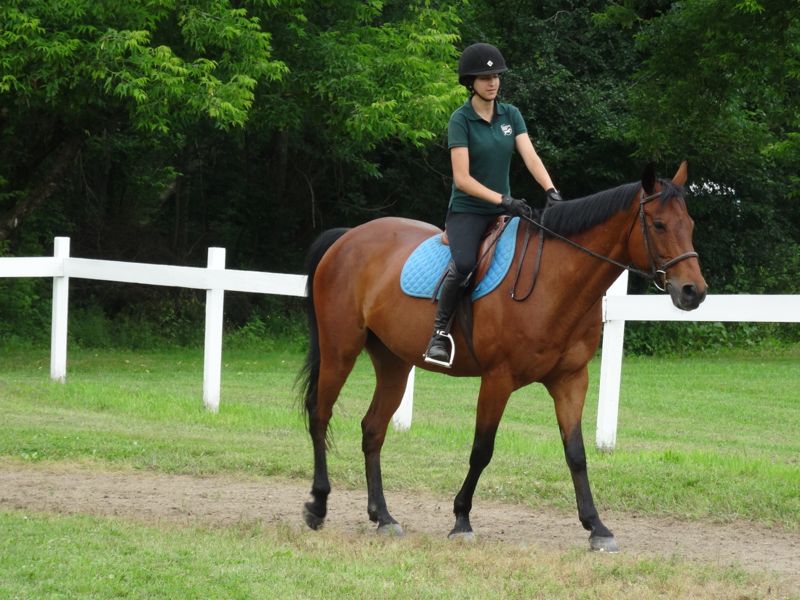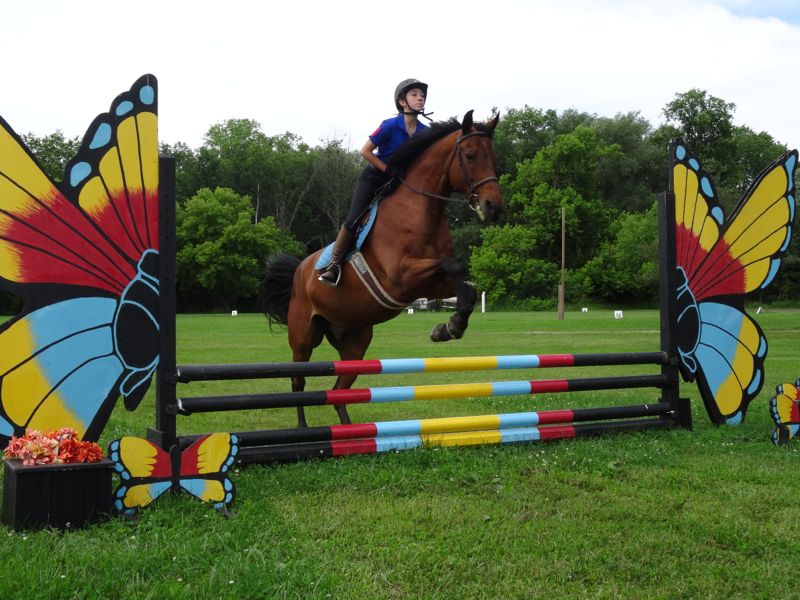 Zanzibar (Zanee) "In Retrospect" is a 22 year old Paint standing at about 15.1hh. She can be "mare-ish" and a little grouchy to handle on the ground.. On the flat, Zanee is smooth and transitions from gait to gait very easily, but often needs a little leg to remind her to keep going. She is often ridden in hunters at shows, and is fast and scopy as a low height jumper. She may be a little older than the horses in the barn but she is young in spirit. Zanee Video Link

See the story on Ginger. Zanee is also part of the small "herd" that went to Danielle and her friends! Katie is a young rider that takes frequent lessons on her aunt's big horse, wants to do a lot more showing, and is well suited to Zanee. Her aunt, JoAnne, who has a history at Longacres in the old days is just smitten with Zanzibar, so she will be well loved.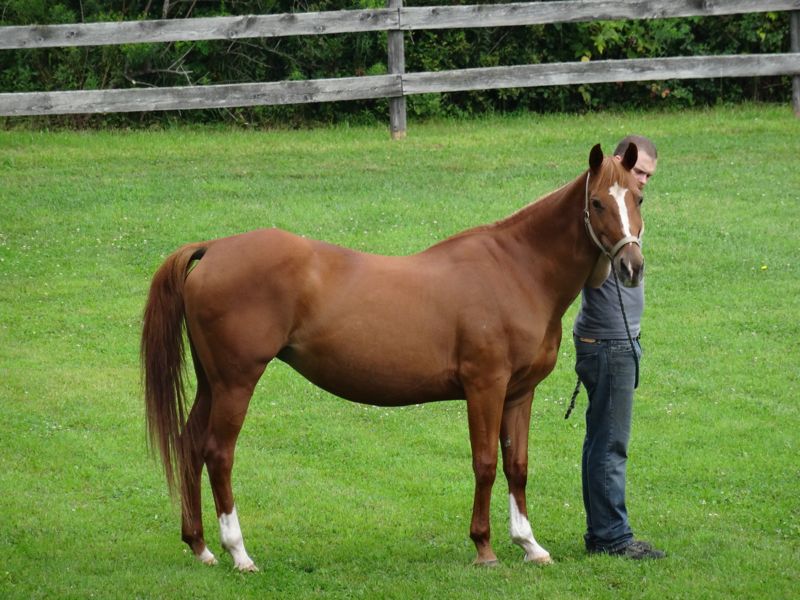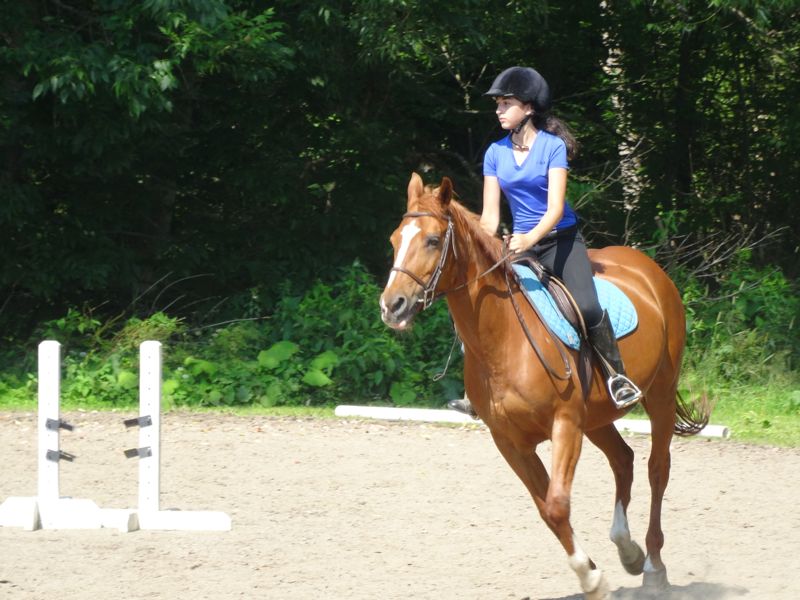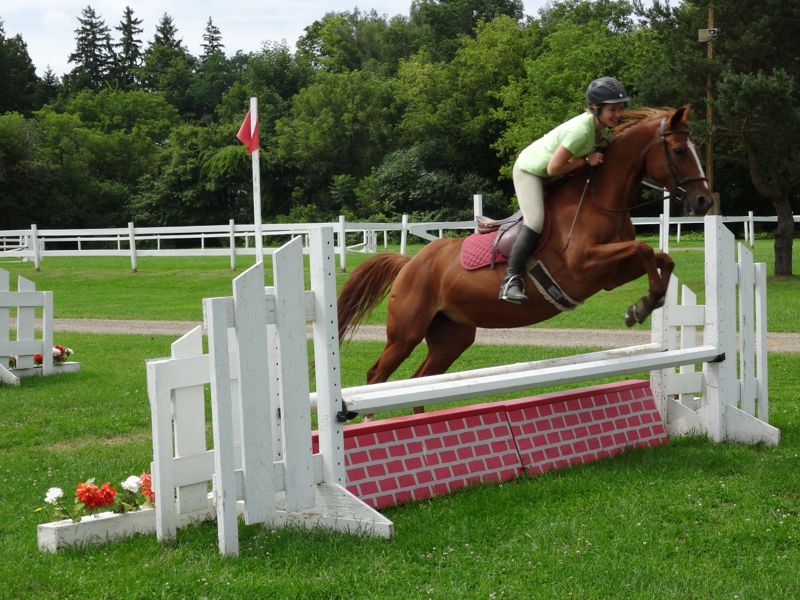 Boo "Willful Child" is a 16 year old Paint standing at approximately 15 hh. Boo is very cute, and gentle. On the ground he stands very quietly and can be groomed and tacked up in his stall or on the crossties. On the flat he is very willing, and listens to his rider. Boo is a very versatile horse, and can be ridden in both hunter, and jumpers, He has had mild soundness issues for years, but is so good at jumping and so willing, that we keep him and ration his daily work. He shows jumpers consistently -



Boo is with Danielle, who also purchased Ginger. He is with his stable mate in Northern Pennsylvania. See Ginger's story.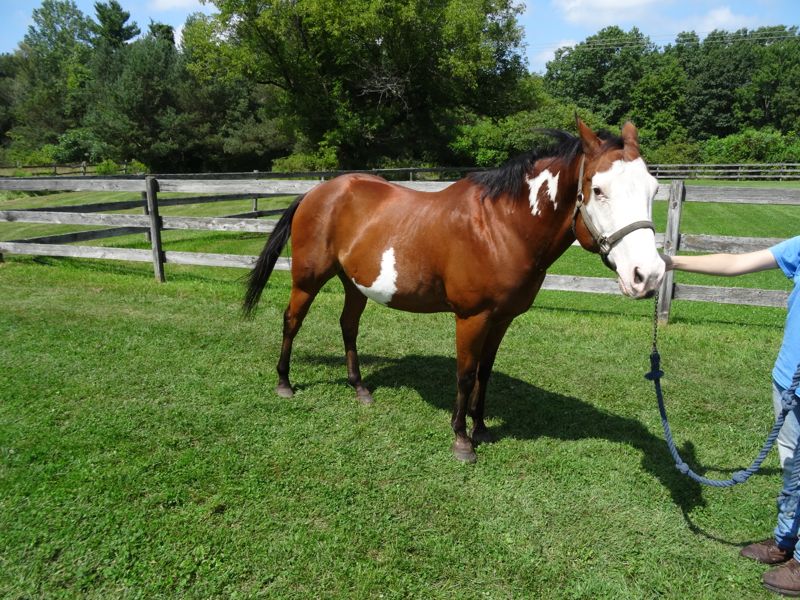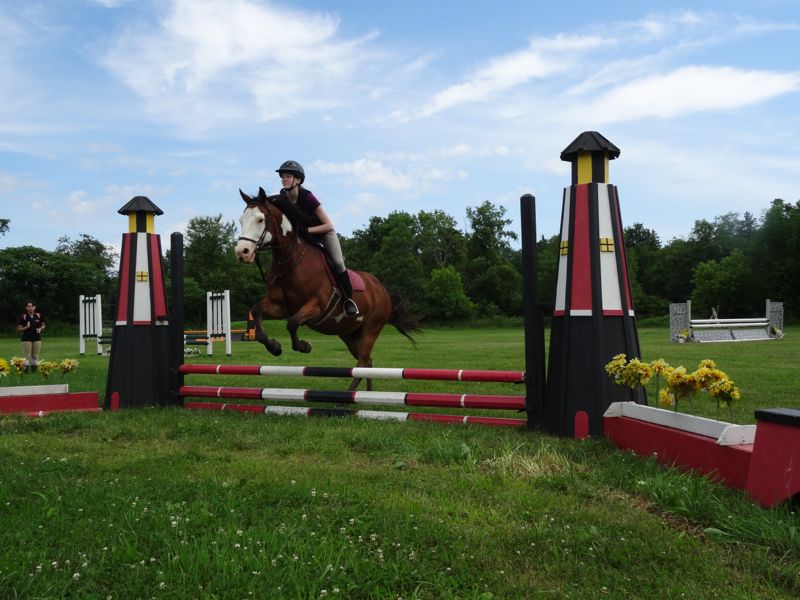 Lil' John "Johnny be Goode" is a 12 year old Thoroughbred standing at approximately 17 hh. Lil' John is a big horse and can occasionally be hard to handle on the ground. On the flat Lil' John has a very big stride, in which he seems like he is going fast, but is usually at a regular steady pace. Has a good dressage training background. Due to a past racing injury, we only jump him 2'6", but is very willing to take his rider over a jump.



Little John had his best year with us in 2015. He was sound, reliable, and did what he was asked at a number of shows. Linda Fuller is one of the western New York professional trainers that we most respect. We have bought horses from Fullers. We have sold horses for them. Linda Fuller has judged Longacres horse shows and has taught as a guest teacher here. A great lady and fine horse woman. Little John is now part of the string of horses at Fuller Stables. We could not be happier. (Star is there too!)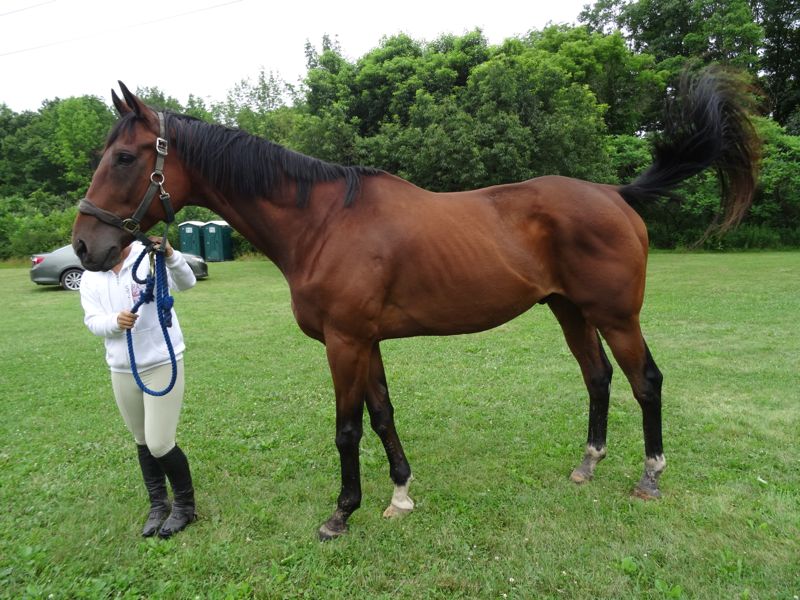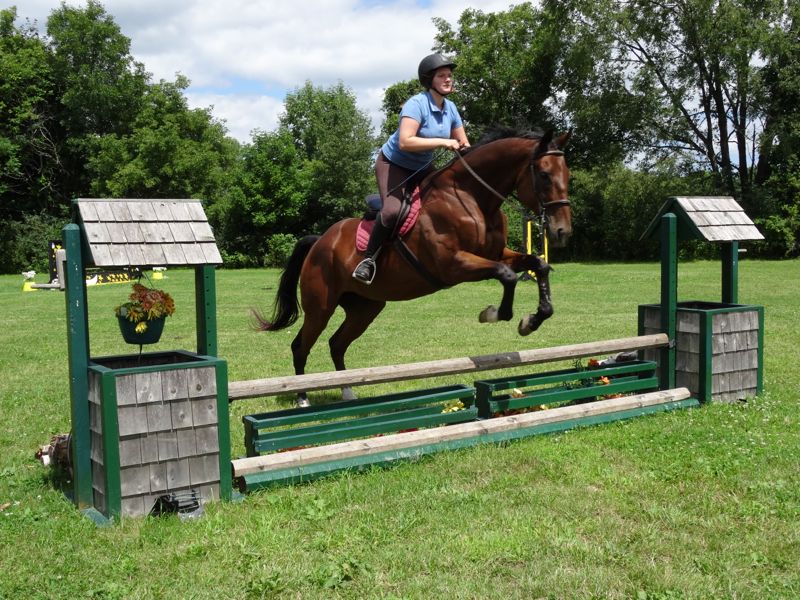 Lincoln "Opportunity Knocks" or "The Missing Link" is a 20 year old Thoroughbred standing at approximately 16 hh. On the ground Lincoln is very sweet, and gentle with anyone who is handling him, he has a heart of gold. He can be tacked up in his stall or on crossties. On the flat Lincoln has a very nice trot that is easy to sit to and a smooth canter. However on occasions he can get a little excited and fast, so he is ridden with a flash on his bridle. Over jumps he takes care of you. Usually he can find his spots, but also needs a rider who will know when to hold him back before a jump. Priced at $2,500 or best offer to VERY good home! This is one of Meghan's all time favorite animals because she got him as a rescue and has conditioned and trained him for many years - she wants that GREAT home!

Meghan is perhaps as happy with Lincoln's home as with that of any Longcres horse. Most of you know that Lincoln is very special to Meghan. She rescued him from a home where he was distressed, and had babied him and found him good homes that improved him for years. He is one of her real favorites. Lincoln was sold to Brianna, the girl who rode him most often at a stable in Northern New York, where he was leased last winter, along with Jazz and Little John.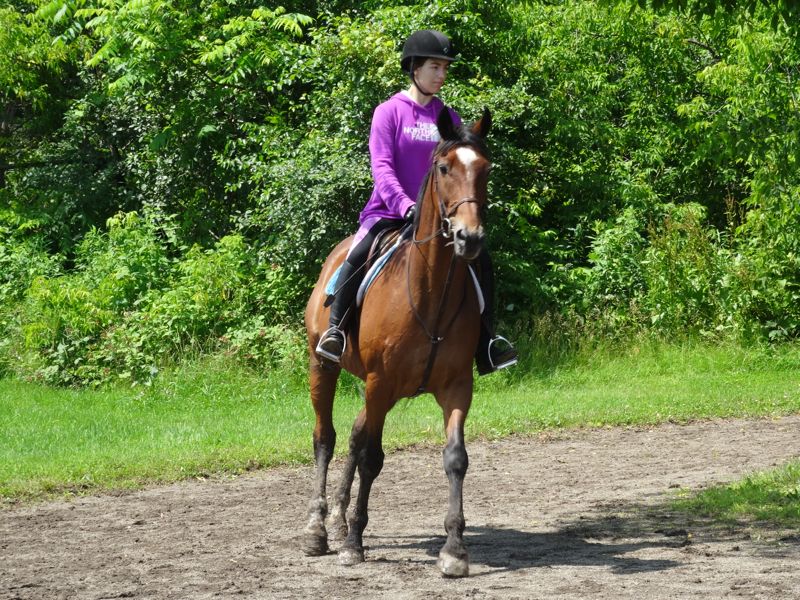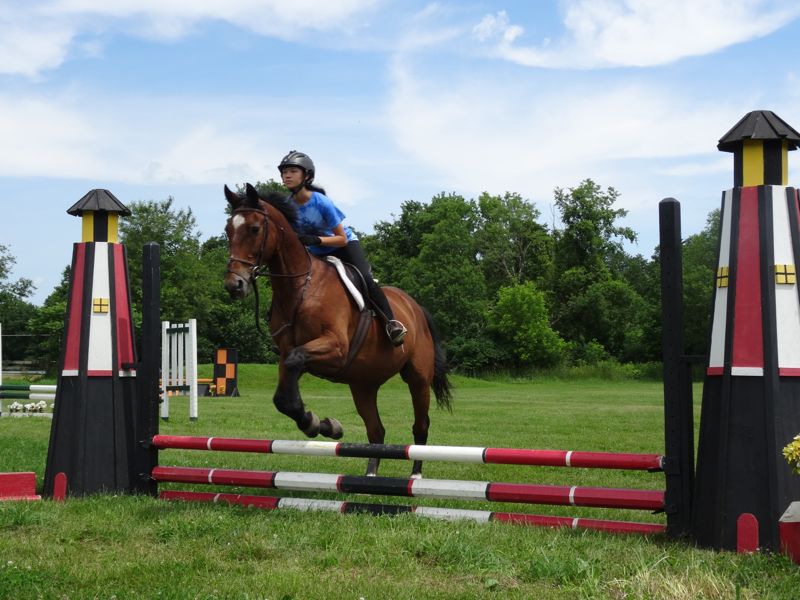 Contact info: email: camplongacres@yahoo.com
716-652-9495 or Meghan's cell: 716-380-6088